Gold prices are set to drop next week as the prospect of a stronger US dollar, buoyed by a strengthening US economy, is expected to weigh on the precious metal.
Twelve of 20 analysts polled in a Kitco Gold Survey said they expected gold prices to trade lower next week, four predicted that prices will rise, and four forecast prices to trade sideways.
The annual October "Golden Week" holidays in China, which increase demand for gold in the world's leading consumer, and the US non-farm payrolls data for September are likely to influence prices next week.
Charlie Nedoss, senior market strategist at LaSalle Futures Group, told Kitco: "It's got a bit of a negative profile here.
"The dollar is weighing on it. It's still under the 10-day (moving average), which is about $1,224.80 [£753.93, €965.62] (basis the December futures). It's ridden that all the way down. I can't really start to get excited until it can get over that. And the 20-day is at $1240.21."
George Gero, senior vice president of RBC Capital Markets Global – Futures and a precious metals strategist, said: "If gold rallies, money managers may be incentivised to allocate gold. But if the stock market is steady and… yields (rise), those (are negative) for gold. But all of this could be helpful for silver because it's a more industrial precious metal."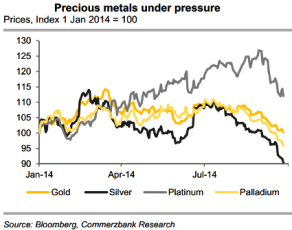 Commerzbank Corporates & Markets said in a note to clients: "Gold has lost more shine this week. At $1,200 per troy ounce, it is trading at a similar level to the start of the year, but has gained 9% gain in euro terms over the same period. Headwinds mainly come from the stronger US dollar, and not much is expected to change here for the time being.
"At prices below $1,200 USD, we could also see follow-up selling here. It would probably only become critical from a chart-technical perspective if the three-year low of June 2013 at $1,180 per troy ounce is undershot.The other precious metals have lost substantial value due to the downward pull of gold."
Western Union said in a note: "The dollar index moved a step closer to extending its record run to 11 straight weeks, already the longest in decades, after US growth got revised higher, as expected.
"The world's biggest economy grew 4.6% annually during the second quarter which was up from the previous estimate of 4.2% and marked a healthy bounce back from the 2.1% contraction during Q1.
"The [US] economy remains on track to grow at a faster pace during the final six months of the year compared to the first half, which keeps the [US Federal Reserve] on track to tighten and the dollar in line for sustained appreciation."
Gold ends lower
Gold prices dropped on 26 September, but finished flat for the week as a whole, after the US dollar's rally hit the metal's safe-haven status.
US gold for delivery in December finished down $6.50 lower at $1,215.40 an ounce on Friday.
Prices ended 0.1% lower for the week.
Spot Gold traded 0.6% lower at $1,215 an ounce on Friday.