Gold prices are set to drop next week as the prospects of a stronger US dollar and faster-than-expected tightening in US monetary policy are expected to dent the yellow metal's safe-haven status.
As many as 13 of 24 analysts polled in a Kitco Gold Survey said they expected gold prices to trade lower next week, while seven predicted that prices will rise, and four forecast prices to trade sideways.
The US Federal Reserve's decision to end its quantitative easing (QE) programme in October has underpinned the demand for the greenback and for equities. The Fed stimulus is credited with driving the five-year-long bull market in stocks.
Meanwhile, any increase in US interest rates will hit investment in non-interest-bearing assets such as gold.
Analysts' Take
Ira Epstein, director of the Ira Epstein division of The Linn Group, who forecast gold prices to drop to $1,200 next week, told Kitco: "There's no reason for gold to rally given all-time new highs in stock indices and 10-year note interest rates rising.
"The [US] dollar is soaring and the euro falling. Commodity prices are falling as well, which if anything outside of America points to deflation, not stability."
Mike McGlone, director of research in the US for ETF Securities, said: "The environment is still bad for metals. The main thing that hasn't changed is the number one asset class is drawing capital – that's equities. Until that stops," gold will be under pressure.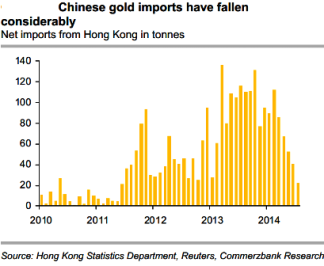 Commerzbank Corporates & Markets said in note: "The gold price does not appear to have bottomed out yet. The stronger US dollar temporarily sent the price to a nine-month low of $1,216 per troy ounce. Speculative investors, in particular, appear to continue withdrawing from the market.
"As regards physical demand, however, we have at least seen some signs of hope lately, with India stepping up gold imports again in August. Next week, data on Chinese imports from Hong Kong will be released, which came as a clear disappointment in recent months. But they, too, are likely to stabilise gradually."
Deutsche Bank said in a note: "This week's FOMC meeting maintains our belief that the process of US monetary tightening continues and this will encourage further advances in long-term real yields and the US dollar.
"We therefore expect headwinds for gold prices will be sustained into next year.''
Gold Ends Lower
US gold for delivery in December ended 0.8% lower at $1,216.60 an ounce on 19 September, its lowest finish this year.
Prices were down 1.2% for the week as a whole.
Spot gold traded 0.8% lower at $1,216 an ounce on 19 September.