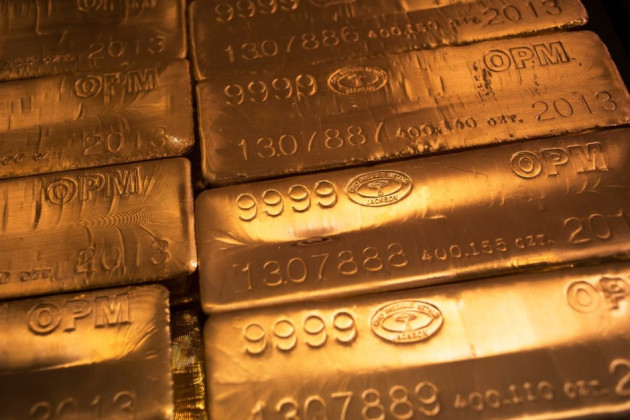 Gold prices are set to drop next week on fears that the US Federal Reserve could start trimming its monetary stimulus in December, on the back of recent upbeat US data.
The Fed will announce its monetary policy decision on 18 December. Any reduction in its $85bn-a-month bond-buying stimulus would positively impact the US dollar, curbing gold's safe-haven appeal.
As many as 12 of 18 analysts polled by a Kitco Gold Survey said they expected gold prices to go down. Four predicted that prices would drop while two others forecast prices to remain unchanged.
The American economy added 204,000 new jobs in October. The job numbers were despite a 16-day partial shutdown of the government last month, which was caused by a political argument over raising the country's debt-limit.
In addition, the report disclosed that 60,000 more jobs were created in September and August than previously reported.
The news is a positive for the world's biggest economy.
Earlier, US government data showed that its economy expanded by 2.8% in the July-September third-quarter, higher than the second-quarter's 2.5% growth rate and way above forecasts of a 2% expansion.
Richard Baker, editor of the Eureka Miner newsletter, listed several reasons for gold to weaken next week.
"Gold was the big loser this week against a strengthening US dollar and concerns that the Fed taper may be in December, given [Friday's] better-than-expected jobs report and this week's strong gross domestic product number. The yellow metal not only fell in dollar-price, but lost considerable value relative to oil and the S&P 500; the former stabilizing from its recent descent and the latter fairly flat for the week. The U.S. dollar rallied at the euro's expense with the European Central Bank dropping interest rates from 0.5% to 0.25% and the credit downgrade of France from AA+ to AA," he said.
Charles Nedoss, senior market strategist with Kingsview Financial, told Kitco that he too expects lower gold prices, based on weak technical charts.
"I think we have more downside here. The charts look pretty [bad]. We had a reversal [on 7 November], we fell under the 100-day [moving average at $1,319.40]," he said.
Gold Ends Lower
Spot gold was down 1.8% to $1,284 an ounce on 8 November. Prices were down 0.9% a week ago, when downbeat Eurozone data pointed to a stuttering economic recovery in the 17-nation bloc, overshadowing positive US factory activity data in the process.
For the week as a whole, gold prices dropped 2.3%.
US gold futures for delivery in December finished 1.8% lower at $1,284.60 an ounce, according to Reuters data.
Gold has lost about a fifth of its value so far this year, on fears that the Fed would begin reducing its massive monthly asset buys.
The Fed's asset buys and a low interest-rate regime have together boosted bullion's inflation-hedge appeal.