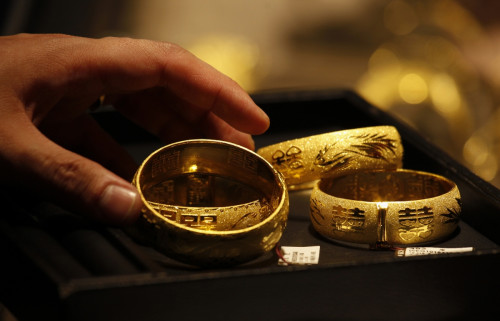 Gold prices are set to rise next week as positive technical price charts for gold could push the precious metal higher next week.
As many as 16 of 23 analysts polled in a Kitco Gold Survey said they expected gold prices to rise, while four predicted that prices would drop and three forecast prices to remain unchanged.
Economic data coming in from China and US Federal Reserve chief Janet Yellen's first congressional appearance, since taking charge on 3 February, could impact gold prices next week.
China will put out inflation and trade balance data next week. In the US, Yellen is scheduled to speak on 13 February at 15:00GMT.
Charlie Nedoss, market strategist at LaSalle Futures Group told Kitco: "The weekly charts look good. We've only had one down week this year so far and that was last week. We have run into resistance at the 100-day moving average, but we're rising (to) the 20-week moving average."
Frank Lesh, broker and futures analyst with FuturePath Trading, told Kitco: "The market is climbing up a trend line and the 20-day (moving average), and does look like it wants to trade higher. When it trades through $1,280, there should be a quick move to $1,300-plus, maybe $1,313 or even $1,335. The dollar remains as the most important influence for gold, but the correlation to equities seems to be lessening somewhat.
"One of the problems for gold right now is that there are less participants and less momentum. Gold will close well above last week's close of $1,239 and I expect it (will) be higher next week," Lesh added.
Gold Ends Higher
Spot gold gained about 1.2% to $1,271.70 an ounce on 7 February amid disappointing US labour market data.
US gold futures for delivery in April finished $5.70 higher at $1,262.90 an ounce on 7 February.
For the week as a whole, US futures gained 1.9%.
China Demand Strong
China returned to the physical gold markets strongly on 7 February after a week-long break, as banks and retailers moved to replenish stocks following solid sales during the Lunar New Year holiday.
The Chinese New Year, celebrated on 31 January, usually triggers a surge in bullion purchases as the period is considered auspicious.
Shanghai premiums for 99.99% purity gold climbed to $11 an ounce over London prices. They hovered at about $4 on 30 January just before China went on holiday. Trading volumes hit their highest in a month.
Caishikou, among the biggest jewellery retailers and dealers in Beijing, sold jewellery worth some 250m yuan in the first two days of the new year, according to data available on its website.
India Premiums Drop
Gold premiums in India, the second largest gold consumer, fell to between $70 and $75 an ounce on 7 February, compared to $80 last week, owing to higher availability of imported jewellery and smuggled goods.
Smuggled gold was available at a premium of $65 an ounce, trade body officials said, reported Reuters.
Premiums across the rest of Asia remained largely stable.