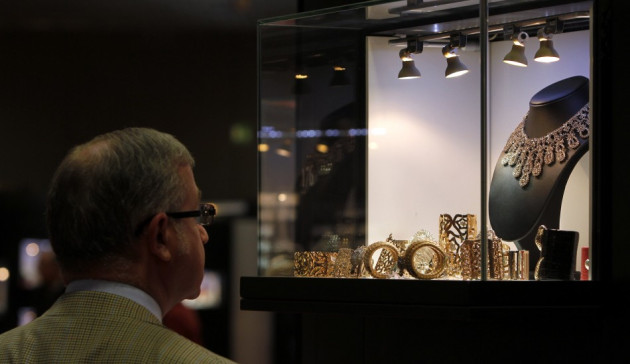 India and the US have overtaken Italy as the world's largest gold exporters by volume, as Italy's gold trade continues to suffer from high manufacturing costs and import duties in markets such as China.
On the back of the challenging global economic climate, global gold demand in the second quarter declined 7 percent year on year to 990 tonnes, according to the World Gold Council. In Italy, second-quarter gold sales were down 15 percent by volume to 4.8 tonnes. In value terms, sales declined 9 percent year on year.
The home to world-famous luxury brands such as Bulgari, Damiani and Roberto Coin, Italy has for years been the world's biggest manufacturer and exporter of gold jewellery.
The industry, known for its trend-setting designs, has been hit by soaring gold prices and high salaries, as well as by heavy import duties, especially in BRIC countries.
Additionally, the country, which sells around 30 percent of its manufactured gold domestically, has suffered a major fall in local gold sales because of the eurozone crisis, as consumer spending on luxury products has declined.
In 2011, Italy's goldsmith sector generated revenues of €6.3 bn (£5.04 bn), down 16 percent from 2007, according to Federdettaglianti Orafi, Italy's federation of jewellery retailers. The federation also estimated a 20-25 percent year-on-year drop in retail gold jewellery sales.
Italy is facing tough competition from lower-cost countries such as China, Hong Kong and Thailand, while India and the US have tax advantages. With improved design skills and cheap labour, India is exporting gold to the US and the EU either duty-free or at lower duties.
Also, manufacturers in India and the US are benefiting from the unorganised nature of the Italian gold industry and enjoy greater economies of scale.
During Italy's economic downturn, India-based Gitanjali purchased a number of Italian luxury jewellery brands. Subsequently, the world's largest diamond and jewellery manufacturer-retailers opened a store in Dalian, China, for the Italian brands Stefan Hafner and Nouvelle Bague.
As global investors favour gold as a safe haven at times of economic uncertainty, gold prices rose to an 11-month peak of $1,795 (£1,120.09) per ounce on 5 October. Gold is currently selling at $1,677.60 per ounce.