Atletico Madrid boss Diego Simeone has made Gonzalo Higuain a priority signing in the summer transfer window, according to reports.
Spanish daily Marca claims Simeone met with Atletico director Gil Marin in Argentina, where he told him of his wish to sign the Napoli striker.
He reportedly views Higuain, 28, as the ideal candidate to lead the Atletico attack, given his quality and his prior experience in La Liga playing for arch rivals Real Madrid.
The Argentina international scored 36 goals in 35 Serie A games for Napoli last season and has also been linked with moves to Chelsea, Liverpool and Paris Saint-Germain.
However, he has a €94m (£74m) buy-out clause written into his contract with the Italian club, which runs until the summer of 2018.
Napoli president Aurelio De Laurentiis told the Corriere della Sera newspaper earlier this week that Higuain would stay at the Stadio San Paolo next season.
"He is young and his family has high moral values. I have the feeling he will not betray us," he said.
"And I have not received any offer equalling the value of the buy-out clause of €94m.
"Even in the case of a club offering that sum, he could still remain, because there is no other team that can offer him the passion and the importance that he is receiving here.
"[Diego] Maradona entered the world's football history thanks to Napoli, and Higuain should understand that there is no context in which he would be appreciated like he is here," De Laurentiis added.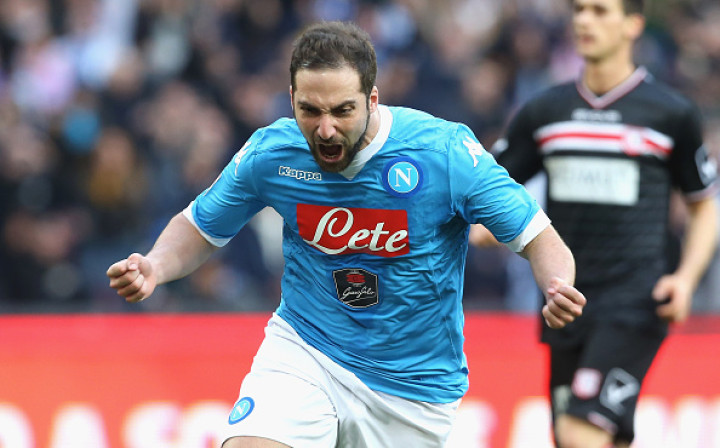 Higuain goal scoring exploits for Napoli prompted legendary Italian forward Paolo Rossi to call him the world's best forward in April.
"Higuain is the best striker in the world. There are many great players around the world but this season no one has done anything like him," the 1982 World Cup winner was quoted as saying by Marca.
Napoli will feature in the Champions League next season after finishing second in Serie A, nine points behind champions Juventus.