Carlo Ancelotti claims he has had satisfactory talks with Argentine striker Gonzalo Higuain and feels he can persuade the 25-year-old to stay at Real Madrid this season.
Higuain is understood to be unsettled at the Santiago Bernabeu over contractual issues and being forced to share his first team place with France international Karim Benzema.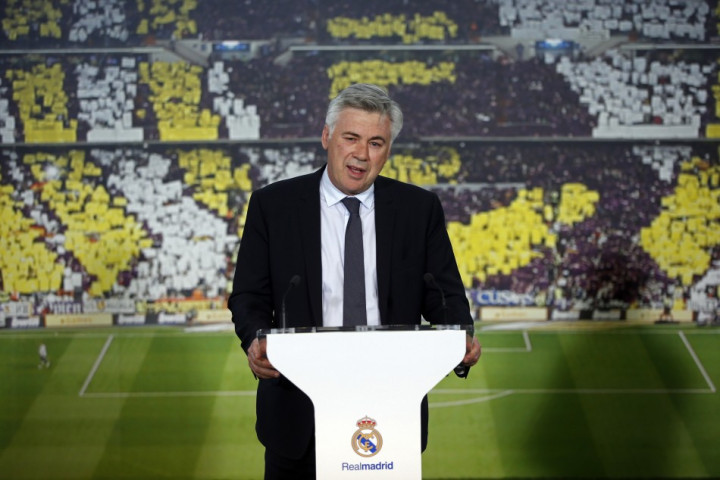 Arsenal, Chelsea and Napoli are believed to be interested in the player, who has had a massive €37m price tag slapped on him by the nine-time European champions.
"Higuain is a great player and I'm very happy to have him here. We had a good conversation about the future. I won't reveal details, but it was good," Ancelotti explained, ahead of Madrid's first pre-season friendly, adding, to the club's website, "... it was a private conversation. He is currently a Real Madrid player."
The Spanish giants are in England to face Championship side AFC Bournemouth at the Goldsands Stadium.
The ex-AC Milan and Chelsea manager also ruled out a move for Tottenham star Gareth Bale. The 23-year-old Welsh international has been the subject of feverish transfer speculation linking him with massive (and potentially world record) moves to either Madrid or Premier League champions Manchester United.
"Gareth Bale? I'm very happy with my squad. He is a good player, but I'm happy with what we have here," Ancelotti explained, brushing off all links to the winger.
Coming as they do, almost immediately after Spurs' boss Andre Villas-Boas highlighted his determination to keep Bale at White Hart Lane, Ancelotti's words will likely please the north London club's fans and players.
Bournemouth Prepare for Historic Clash
Meanwhile, the Cherries are busy preparing for what is arguably one of the single biggest football matches in the club's history - the visit of Real Madrid.
"I think it really puts Bournemouth on the European map. Football is one of the most popular spectator sports in the western world and for Bournemouth to be playing a side such as Real Madrid is a major achievement for the club," council leader John Beesley told the BBC.
The match is scheduled for 7.45pm BST.