Google Allowing Users You Don't Know to Email You: How To Opt Out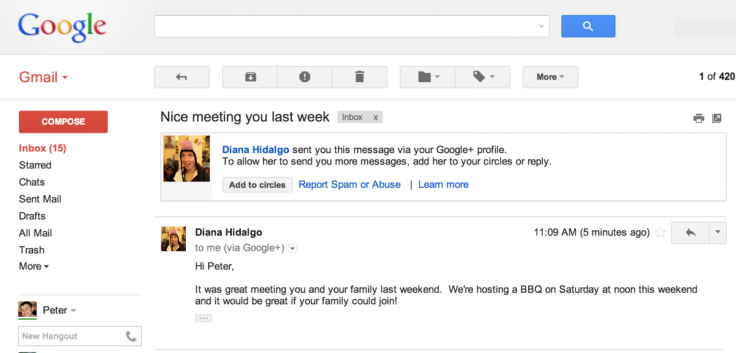 Google + users can now send you messages without actually knowing your email address.
The company made the announcement through a blog post saying that it is now allowing users who have Gmail and Google+ accounts to email anyone who also has both accounts, even if the user does not know the receiver's email address.
The feature is a result of Google's attempts to deepen its integration between its email service and social networking service. It will be rolled out to users around the world in coming days.
How will it work?
After the changes take place, Gmail will begin auto-suggesting Google+ users that the email's sender has added to his Circles (or connections) on the social networking service. However, the email sender will not be provided with the recipient's email address unless he or she responds to the message.
Also, messages from Google+ users who aren't also in your own Circles will automatically appear in your Gmail account's Social tab, leaving the Primary tab free for emails only from verified contacts and sources.
How to opt-out from the new Google Email Changes?
Google is offering users four options to control how this feature works.
For those who are put off by the idea of the feature, Google is allowing users to opt out of it completely. If they want to use the feature in a conservative manner, they can choose to limit the feature only to people who they have in their own circles.
The third option allows them to make the scope broader by extending the feature to connections of their connections. And the last and most open option will allow users to open the feature up to anyone on Google+.
This feature is one of the first steps by Google to integrate its social network into its entire portfolio of apps and services so as to offer users a consistent social layer throughout all aspects of the Google experience.
© Copyright IBTimes 2023. All rights reserved.