Google Claims Ownership of Mysterious Barges But Keeps Fans Guessing
Google confirms it is the owner of two mysterious barges moored off the US coast but they won't be used as data centres, for "wild parties" or "dinosaurs".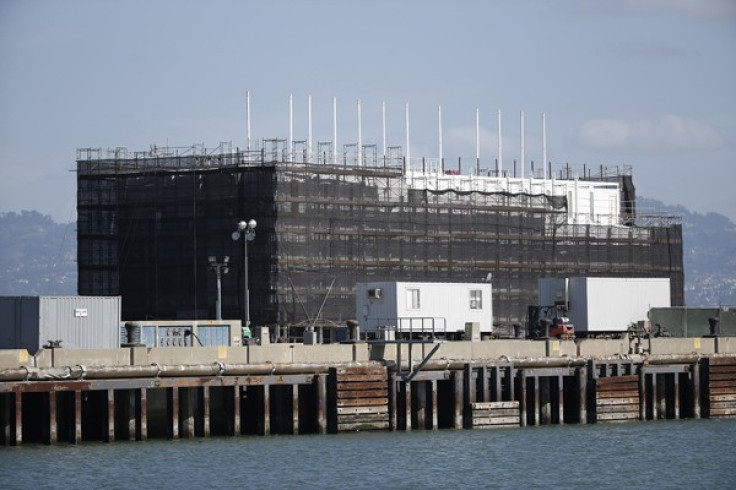 An enormous four-storey barge was first spotted in September in San Francisco before a second similar barge was seen off the coast of Portland, Maine. It was claimed they were owned by Google and would become floating showrooms for the upcoming public launch of Google Glass.
It was said the barges would feature roof-top space for entertaining guests, catering facilities and areas to demonstrate the head-warn gadget.
But Google has poured cold water on the theory that the barges will be used for parties, and another claim that they will become huge floating data centres for the company's servers.
In a statement sent to TechCrunch, a Google spokesperson joked:
"Google Barge...a floating data centre? A wild party boat? A barge housing the last remaining dinosaur? Sadly, none of the above. Although it's still early days and things may change, we're exploring using the barges as an interactive space where people can learn about new technology."
Vague
The somewhat vague description will be a disappointment to Google fans hoping for luxury Glass showrooms capable of travelling the world to promote the new product, but whatever the search giant has planned for the barges is still a closely guarded secret.
According to Reuters, Google has forced at least one US Coast Guard to sign a non-disclosure agreement, while another unidentified person, an inspector for a Californian government agency, admitted having to do the same.
San Francisco-based and CBS-owned television station KPIX 5 claims to have been told by multiple sources that the barges have been planned for over a year.
The sources said the barges were the brainchild of the search company's secret Google X skunkworks facility - also behind the development of Glass - and represented the company's attempt to upstage Apple's renowned retail stores.
Party deck
A further source, who has been aboard one of the barges, said the first three decks were designed to be "dazzling showrooms" which could be fitted with chrome features and floor lighting. The fourth deck was said to be a "party deck" designed to feature bars and space where Google executives could entertain guests.
Local media reports claim the barges are registered to a company called By and Large LLC, which is the same name as a fictitious company in the Disney Pixar film Wall-E. In the film, By and Large looked after fat and lazy humans on a spaceship after the Earth becomes uninhabitable.
© Copyright IBTimes 2023. All rights reserved.