Google has announced plans to release a news platform allowing local residents to upload short stories for anyone to read.
Bulletin is being trialled in several US cities and will eventually be rolled out worldwide. Google is aiming to tell "hyperlocal" stories that are otherwise missed by major publications.
Its biggest draw card is that users will not need any training or journalistic experience to use the platform.
According to Google, Bulletin is a "free, lightweight app for telling a story by capturing photos, video clips and text right from your phone, published straight to the web (without having to create a blog or build a website)".
Google is testing the Bulletin pilot in Nashville and Oakland. "If you are comfortable taking photos or sending messages, you can create a Bulletin story," it says.
One example on the website shows a man in California uploading a story about a creek flooding and destroying parts of a road.
Alex Valdivia reports that "Scotts Valley is completely wiped out" and lists the story under "traffic and accidents" for people to find.
A downloadable app is the only required tool for publishing.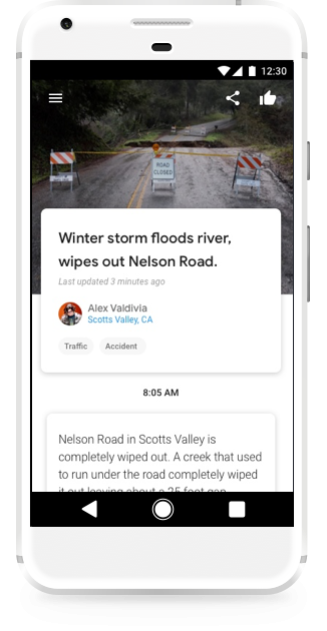 "Bulletin makes it effortless to put a spotlight on inspiring stories that aren't being told," says Google.
It is inviting writers to register their interest and will alert them when Bulletin becomes available in their region.
Google is pledging that the app will not replace anything that a local paper does and says that Bulletin will be a tool for journalists. "The aim is not to replace anything a local paper does – in fact local publications can use this content for free if they find it useful or it enhances any of their work because it will be public and published under a Creative Commons licence," a Google spokeswoman told IBTimes UK.
"A local reporter can't cover every event in town – take sports, there are scores of little league games, soccer matches, lacrosse, hockey, swimming, water polo and tennis matches taking place every weekend. Add to that other community events etc and it is impossible to be at everything just in case something happens."
Google also said that news on Bulletin would not be prioritised over other media outlets in searches.
Earlier this month, media mogul Rupert Murdoch – who owns News Corp – said Facebook should be paying "trusted publishers" for content.
"If Facebook wants to recognise 'trusted' publishers then it should pay those publishers a carriage fee similar to the model adopted by cable companies," Murdoch said.
"The publishers are obviously enhancing the value and integrity of Facebook through their news and content but are not being adequately rewarded for those services."
Murdoch has previously condemned Google and Facebook for using "inherently unreliable" algorithms to promote news sources.
This article has been updated to include comments from Google.