Key Features:
4.7in screen with 768 x 1280 resolution (318ppi)

Quad-core 1.5GHz processor

Android 4.2 (Jelly Bean)

Price as Reviewed: £35-a-month on Three's One Plan or from £239 SIM-free on the Play Store
Labelling one thing or another as "the best in the world" is a very subjective thing to do. There are very few areas where you can say with absolute certainty that something is the "best in the world". The world's best footballer (Leo Messi) is the only category I can think of at the moment where there is no debate to be had.
Everything else is up for debate. One man's best film ever is another man's Weekend at Bernies - unless of course the former is arguing that Weekend at Bernies is the best film ever.
Therefore in this article rather than categorically saying the Nexus 4 is the best smartphone in the world (which it is), I am going to present you with my arguments as to why I believe it is the best smartphone in the world today.
Firstly a few background details
The Nexus range of smartphones have been around since 2010 and were designed with Android in mind. The phonea are produced as a partnership between Google and their chosen hardware manufacturer, LG in this case.
The phones are designed to show off Android at its best, without being encumbered by manufacturers' custom UI skins and apps. The Nexus 4 is the flagship model for the latest version of Google's mobile operating system - Android 4.2 (Jelly Bean).
The Nexus One, Nexus S and Galaxy Nexus were all relatively successful smartphones, though their popularity was mainly limited to a niche, tech-savvy crowd. The Nexus 4 has broken out and found popularity among a wider audience.
Together with a pure Android experience, an excellent hardware feature set and an almost unbelievably low price, the Nexus 4 was a much sought-after smartphone.
Unfortunately Google and LG seemed to be taken completely by surprise with its popularity. Within 30 minutes of going on sale through the Google Play store in the UK the model was sold out, with shipping times slipping to weeks rather than days and the stock not returning until last week.
However for those of us lucky enough to get our hands on one of these elusive devices, it was clear from the beginning that the excitement around the Nexus 4 was justified.
Design
So why is it the best smartphone in the world? Well, let's start with the design.
It's hard to put into words exactly why the Nexus 4 is just so comfortable to use, as initially it looks like any other smartphone out there. It is a rectangular slab of glass and black plastic.
Unlike most Android handsets however, the Nexus 4 doesn't suffer from that cheap feeling you get a lot of the time - even with the hugely popular Samsung Galaxy S3. At 139g and 9.1mm thin, the Nexus 4 is heavier and thicker than the iPhone 5, but it doesn't matter as the weight and thickness give it a feeling of solidity and great build quality.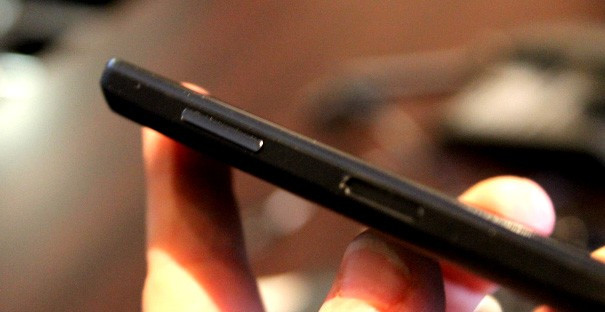 It is also wrth noting that the Nexus 4 has a much larger screen than the iPhone 5 (4.7in vs 4in) yet in the hand it doens't feel that much bigger, which is down to the clever design employed by Google and LG.
The Nexus 4 is a phone which is superbly well-build and the glittery design on the rear of the phone adds a glamour to what is otherwise a solid, if unremarkable, design. The only design decision LG has made which I don't love is the use of a silver band around the front edge, which breaks the seamless black design. However it's a small quibble and one which certainly doesn't make the phone ugly.
Android
Competition for the best smartphone title here is limited to Apple's iOS, as Windows Phone and BlackBerry 10 are as yet too under-developed to be real contenders.
Ever since the emergence of the smartphone as a global phenomenon, Android has been seen as the geeky alternative to the polished and refined iOS. Glitchy and buggy but open and customisable, Android was seen as the OS of choice of the technophiles but not the everyday consumer.
However with the launch of Android 4.2 (Jelly Bean), Google's mobile operating system has come of age. It is smooth, bug-free and simply works. In fact the pure Android experience on the Nexus 4 is the first time I have honestly felt as if it was a better OS than Apple's.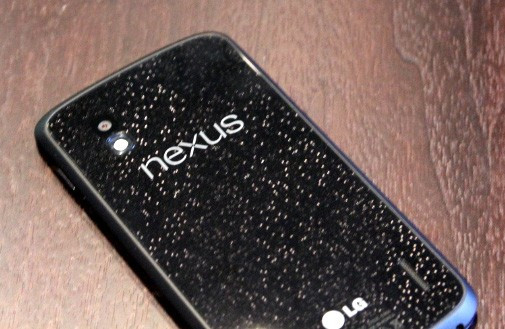 The handling of notifications, which has become an increasingly important aspect of any mobile operating system, has also been polished with the latest version of Android and is now the best available on any platform. It's clean, simple and effective.
Android's app eco-system is now on a par, if not surpassing, Apple's. It is pointless just comparing the volume of apps on either platform, as well over 50 percent of those are useless and will never be used.
It is better to look at the core apps everyone uses on a consistent basis. This means email, messaging, social networks, maps, contacts, media and games. On all aspects I believe Android is now the equal of, if not surpassing, iOS with the only area I found where there is a serious lack of options being podcasts.
Hardware
A smartphone costing just £239 SIM-free would typically get you sub-standard hardware and an older version of Google's Android. Not so with the Nexus 4.
It has a 4.7in display with a resolution of 768 x 1280 giving it a pixel density of 318 pixels per inch. Compare that to the iPhone 5 which has a smaller 4in screen with a slightly higher 326ppi or the Samsung Galaxy S3, which has a 4.8in screen with a pixel density of just 308ppi. And remember, both these phones cost a lot more than the Nexus 4.
In terms of processing power, the Nexus 4 is powered by a quad-core Qualcomm CPU clocked at 1.5GHz. But these are just numbers. The proof is in the performance and the Nexus 4 delivers one of the smoothest smartphone experiences on the market.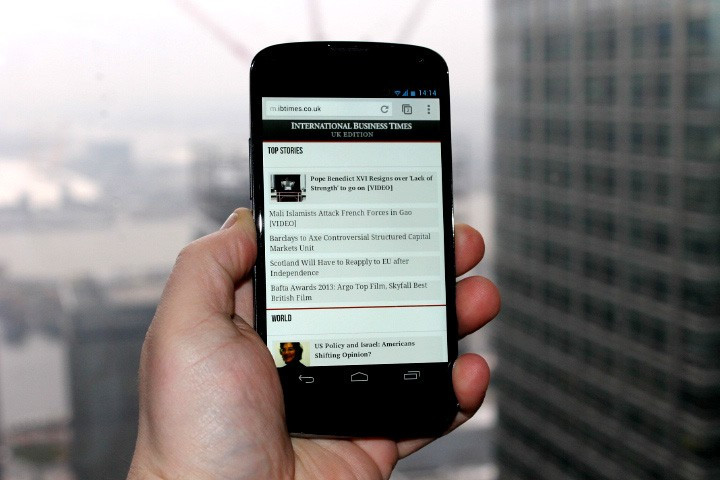 Multitasking, HD video playback, intensive 3D gaming and anything else I threw at the phone wasn't a problem. The key to Apple's iPhone success in my mind has been down to the tight integration of hardware and software.
For the majority of Android smartphone manufacturers there is no integration. However Google has clearly worked with LG closely on the Nexus 4 and the result is the smoothest smartphone experience I have had to date.
The one issue the Nexus 4 has, is one which afflicts almost all smartphones today - battery life. While the Nexus 4 is no worse than its competition, it is also no better, giving you just about one day of slightly-above-average usage.
Cameras are another important area for smartphones these days, and this is one area where the Nexus 4 does not match the competition. Still and 1080p video is decent but not great. Compared to the Galaxy S3, iPhone and the superb Nokia Lumia 920 the Nexus 4 falls short.
The updated Android app is however a breeze to use and gives you a couple of nice features like Panorama and Photo Sphere, which lets you take photos in multiple directions and stitch them together in one image.
4G
Upon its release last year, there was outcry (mostly from the US media it must be said) that Google had decided against putting a 4G radio into the Nexus 4.
For me it was a non-issue. As 4G is just beginning to roll out here in the UK and at a price I find prohibitive, not having 4G support didn't make any difference to my view of the Nexus 4 - and I believe the majority of people (in the UK at least) will feel the same.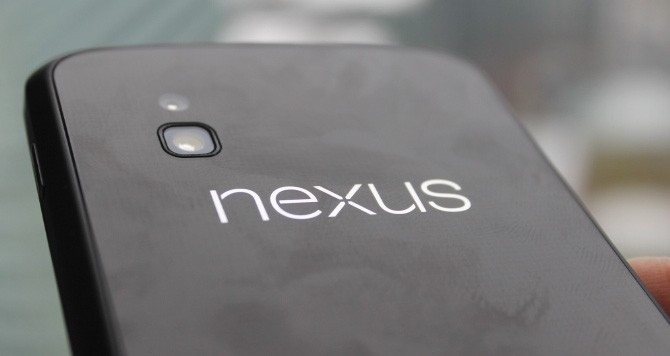 The Nexus 4 supports the DC-HSDPA 3G standard which (theoretically) gives you up to 42Mbps download speeds, which should be enough for most users.
Value
This is where the Nexus 4 blows all competition out of the water. With specifications you would expect to find on a £500 smartphone, the base cost of £239 (8GB) is remarkable. Even moving up to 16GB (which I would recommend most people do) paying £279 is still a bargain. Not having a SD card slot is a disappointment, but for most people 16GB of storage is more than enough - especially considering the plethora of cloud-based storage options available these days.
Looking at the flagship phones of the major four operating systems, all are priced well above the cost of the Nexus 4. The Samsung Galaxy S3 (16GB), which is almost a year old, will set you back £410 SIM-free while the 16GB iPhone 5 will cost you a huge £529 to buy outright.
Turning to Windows Phone, the Nokia Lumia 920 (32GB) will set you back a £515 SIM-free while the recently-launched BlackBerry Z10 (16GB) will cost you £550.
Looking at phones around the £240 - £280 mark, the only phone which comes close to matching the Nexus 4 is Huawei's Ascend P1 which has a smaller, lower resolution screen, just 4GB of storage and an older version of Android.
You could opt for the Samsung Galaxy S3 Mini, but again you get a smaller screen with lower resolution and a less powerful CPU.
Like the Nexus 7, Google has been able to produce a product of this high standard at this keen price thanks to its ability to recoup profits through its Play Store of apps, games, videos and music, which will hopefully lead to others following suit.
Verdict
The Nexus 4 is simply the best smartphone on the market today, and in my opinion the best smartphone I have ever used.
It combines superb hardware, a great screen and flawless build quality with the best Android expderience (and possibly any OS) to date and all at an unmatchable low price.
Yes it lacks a microSD card slot and there is no 4G, but these are very minor quibbles in a phone of this quality.
The Nexus 4 deserves to be the standard bearer for smartphones thanks to its combination of hardware, software and value - it's a pity Google and LG just didn't make some more of them.