An image of the next Google Nexus smartphone has been released online, showing a larger screen, Android KitKat and a thinner profile.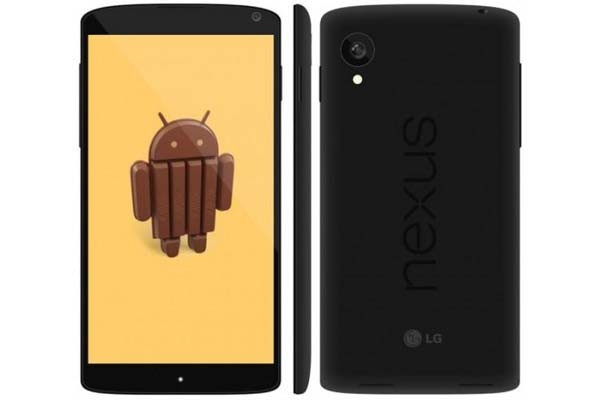 The Google Nexus 4 was a remarkable smartphone for a number of reasons, not least because of the relatively low price for top-of-the-line hardware. While it was a huge critical success, supply chain problems led to many people being unable to buy one.
It was therefore inevitable that Google would release a new Nexus smartphone and we now have an idea of what it might look like thanks to a rendered image released online based on details released last week to the Federal Communications Commission (FCC) in the US.
The details found in the FCC filing suggested the phone would have a 5in screen, slightly larger than the 4.7in screen on the Nexus 4. The filing also revealed that the phone is likely to be manufactured once again by LG and that it will support 4G networks - something many complained about being lacking from the Nexus 4.
Despite this increase in screen size, the FCC filing says the phone's overall footprint would be slightly shorter and narrower (132 x 68.2mm vs 134 x 68.7mm). The image above posits that LG has managed to do this by creating a phone with a very thin bezel along the sides of the phone, allowing it to increase the screen size without increasing the overall size of the phone.
The image also seems to show a thinner profile for the Nexus 5 compared to last year's model. While there are no profile dimensions detailed in the FCC filing, it is suggested that the Nexus 5 will be slightly thinner than the 9.1mm Nexus 4.
Google has yet to give any indication about a release date for the Nexus 5, but as the Nexus 4 was launched in October last year, it's likely we could see Google announced the new phone next month, along with more details about Android 4.4 or KitKat, which it announced last week.
The Nexus 5 will be the flagship device for Android KitKat, which has seen Google team up with Nestle in a no-cash commercial partnership.
Read More: Google Nexus 5 - Everything You Need to Know