Images claiming to be of the upcoming Galaxy Nexus tablet have surfaced online showing a medium sized tablet produced by Asus and closely resembling the Samsung Galaxy S3.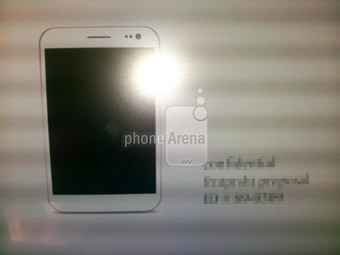 Google is strongly rumoured to be developing a quad-core, Tegra 3 powered tablet with a 7in screen and running an updated version of Android 4 that will go on sale later this year to rival the 7in Galaxy Tab and Amazon Kindle Fire.
Published by PhoneArena, the latest leak claims to be a set of press image drafts that have been photographed from a computer screen and show the tablet looking a lot like a Galaxy S3 from the front, with a glossy white finish, curved edges and light sensors next to a front-facing camera.
Somewhat bizarrely, the photographed tablet has an earpiece as a mobile phone would, but we can't imagine why Asus would include it and suggest users hold the 7in tablet to their face like a conventional phone, although it may well have a SIM card slot and the ability to make phone calls through headphones.
There doesn't appear to be a home button below the screen, although the low quality of the photo makes it impossible to say for sure.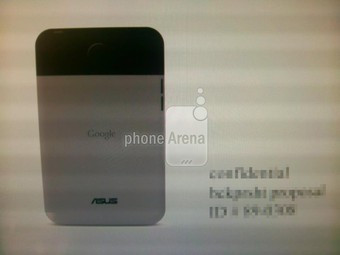 Thought to be called the Google Nexus slate when it goes on sale, the tablet has a two-tone back with what looks to be aluminium covering the lower three quarters, and a black plastic upper quarter presumably to allow for 3G and 4G signals to pass through.
In this upper quarter there what looks to be a centrally located camera with a lens much larger than anything usually seen on a tablet.
Inside, the Nexus tablet is rumoured to get a powerful quad-core Tegra 3 CPU and 1GB of RAM. It was initially though the Tegra 3 chip would cost too much and push the price above $200 but a recent report from Nvidia suggests it will include a chip similar to Tegra 3.
As for software, PhoneArena believes that Android 5.0 (Jelly Bean) will not be ready in time for the Nexus tablet, and instead we'll see ANdroid 4.0 (Ice Cream Sandwich) updated to Android 4.1, which is tipped to include Google's new 3D maps, revealed by the company on 6 June.
At a press conference in San Francisco the search giant also revealed that Google Earth will soon feature much improved 3D maps and that its Street View cars have photographed more than five million miles of road.
Google acknowledged that making the move from basic 3D landscaping to incorporating 3D buildings into its mapping has taken some time, but the company's Peter Birch told the conference that its data comes from a wide variety of sources and "we knew we wanted to do something better."
Nothing else is known about the Google Nexus tablet, although reports in late May claimed that Google was preparing to announce the tablet in June at its Google I/O conference, priced between £125 and £160 to compete with the Kindle Fire, so we might not have much longer to wait.