Google has given its much-maligned social network a design overhaul in a bid to attract more users, saying it is moving "toward a simpler, more beautiful Google."
While Google continues to put on a brave face regarding its social network, the common perception is that it is struggling. Google announced today that it has 170m users signed up to Google+, however only a fraction of these use the service regularly. According to Google itself, 50m people use the service at least once a day, while 100m use it at least once a month.
Despite the service being open to the public for only eight months, Google has decided to implement a pretty major design overhaul. The first thing you'll notice is the static navigation bar along the top has been moved to the side.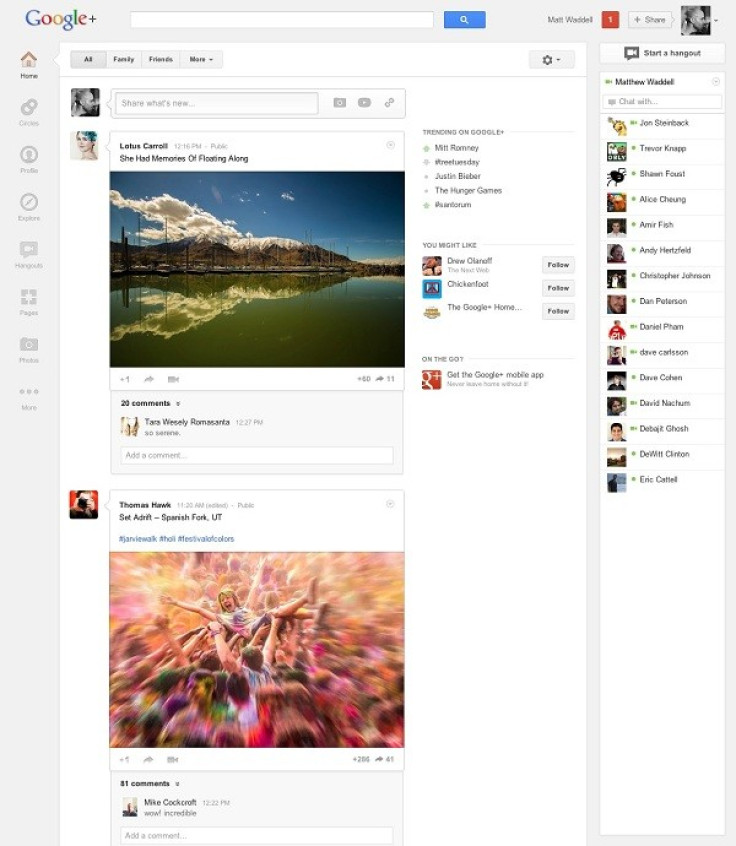 This new vertical ribbon is a dynamic list of features (which Google is now calling apps) on the left of thwe screen, allowing you to drag apps up or down to create the order you want; hover over certain apps to reveal a set of quick actions or, show and hide apps by moving them in and out of "More".
The ribbon also lets Google future proof the layout of the social network, letting it easily add in the icon for its "next big feature."
Your streams have also been given a refresh with Google giving photos and video more screen space. Google has also added a stream of conversation "cards" that make it easier to scan and join discussions, and an "activity drawer" which highlights the community around your content. "Simply put, we're hoping to make sharing more awesome by making it more evocative," Senior Vice President Vic Gundotra said on the Official Google Blog.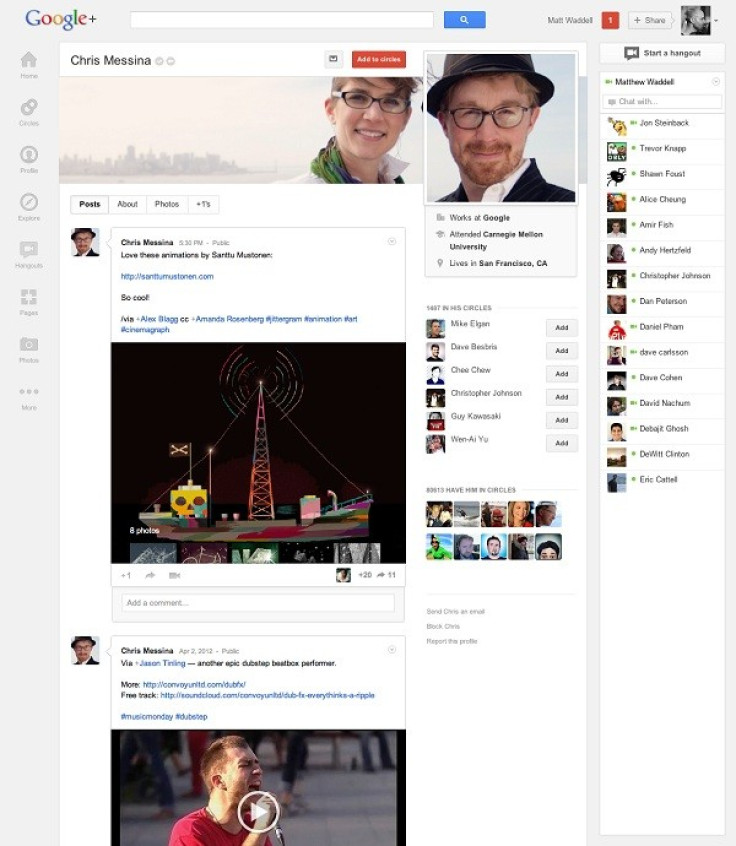 Hangouts, Google+'s place for video conversations, has been given its own dedicated Hangouts page with an always-updated list of invitations from the people in your circles; quick access to every public and On Air hangout and a rotating billboard of popular hangouts and pro tips.
Google's also added a page called "Explore" which Google says will highlight trending and interesting posts from around the network. You'll also get a new profile page with bigger pictures and a new chat list to the right of the stream.
Whether or not the redesign will make any difference to the numbers using Google+ remains to be seen. The update to the new look Google+ is rolling out at the moment though not everyone has seen it as of yet.
© Copyright IBTimes 2023. All rights reserved.