Designer of the legendary McLaren F1 supercar, Gordon Murray, has unveiled his newest creation; a carbon fibre, two-seat, rear-wheel-drive sports car powered by an electric motor.
The AR. 1 prototype is Gordon Murray's answer to those who say green motoring is boring, with a carbon fibre monocoque chassis and a kerb weight of just 850kg, making it lighter than a Lotus Elise.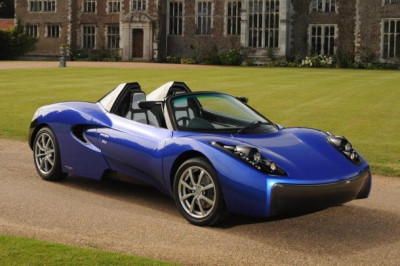 A lot of that weight comes from the 240kg battery - which is thought to have been sourced from the Mitsubishi i-MiEV - produces 63bhp and 133lb ft of torque available from standstill; the AR. 1 has 'performance targets' of 0-32mph in 4.4 seconds, 0-62mph in 11.4 seconds and a top speed of 91mph.
These figures certainly won't set the world on fire, but given the light weight, instant torque from the electric motor and Murray's knowhow, the AR. 1 may prove to be a fun city car, rather than a Lotus-rivalling sports car.
The carbon fibre construction will certainly make the AR. 1 a safer electric city car than the popular G-Whizz, known for performing very badly in crashes due to not having to comply with normal car safety standards.
Murray has focused on a low centre of gravity and put a lot of attention into the suspension setup of the AR. 1, which he claims results in excellent ride and handling.
The battery takes six hours to charge - although no word on how long that charge lasts - and produces the equivalent emissions of 31.4g/km.
As this is just a concept there is no word yet on price or availability, but with its sports car credentials and carbon construction, don't expect the AR. 1 to be a cheap alternative to other city cars.