Requests from governments to remove content from the web have almost double over the course of one year, according to Google's latest Transparency Report.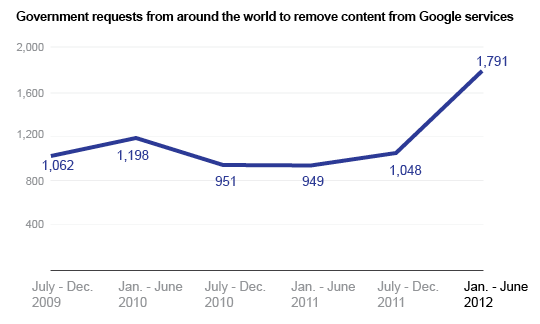 Google has published its latest biannual transparency report. The report allows users to see what goes on behind the scenes at Google, from traffic numbers to content removal requests made by companies for copyright issues or official authorities for various reasons.
The latest report covers the period between January and June of this year and the headline trend shows the number of removal requests made by countries over the first six months of 2012 has nearly doubled in comparison with the same period in 2011.
"This is the sixth time we've released this data, and one trend has become clear: Government surveillance is on the rise," Dorothy Chou, Senior Policy Analyst at Google said in a blog post.
1,791 removal requests were made in the first half of 2012 to remove 17,746 pieces of content, compared to just 949 removal requests for the same period last year. Turkey made by far the most requests, with 501 demands.
Not all requests are granted though, as the case that happened in Brazil back in September proves. A Google executive was detained by the local police after the company failed to remove content the authorities deemed inappropriate and in violation with the countries' laws.
Google reaffirmed then that the company only complied with demands when the requests were justified and did not infringe on individuals' freedom of expression.
On top of numbers of requests, broken down by countries, types of requests and reasons invoked for removal, Google also has an additional list of notable cases by country for not complying with the demands.
This gives a good insight into what type of requests the search giant has to deal with from different countries.
User data requests
Other numbers Google provides in its transparency report include the number of user data requests made by authorities. Again, the trend is to an increase in 2012 in comparison with 2011.
The numbers given for the first half of 2012 show that 20,938 requests were made, while during the same period in 2011, only 15,744 were made. Most of the requests in 2012 have come from the US, with nearly 8,000 requests made in the first six months of 2012 by the US alone.
India, Brazil, France, Germany and the UK all made over a thousand requests themselves for the first half of 2012. The report saw an increase for requests coming in from the UK, going from 1,279 in 2011 to 1,425 in the latest report.
All of these figures show that online government surveillance is on the rise and authorities are more involved than ever in what happens on the web.