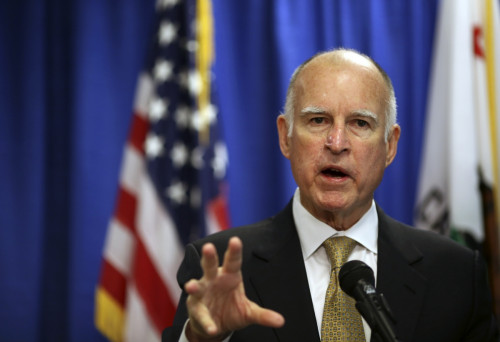 The governor of California Jerry Brown has declared a state-wide drought, as wildfires continue to rage through parts of the state.
As a result, farmers whose crops have failed after one of the state's driest winter in years could receive extra aid, and more fire fighters will be deployed to battle the blazes that have raged since Thursday night, destroying five homes.
At a press conference on Friday, Brown called on residents to cut back on water use by "at least 20%".
"We can't make it rain, but we can be much better prepared for the terrible consequences that California's drought now threatens," Brown said.
With the state's largest reservoir at its lowest recorded level, and the American river running almost dry in places, Brown said he hoped the declaration would help to focus people's minds on how serious conditions were.
"We are in an unprecedented, very serious situation that people should pause and reflect on how dependent we are on the rain, nature and one other," he said, confirming that that he was considering imposing a mandatory conservation order.
A fire is still raging uncontrolled in the Los Angeles National Forest in Los Angeles County, and has kept thousands from their homes in north-eastern suburbs of the city.
Last year, the Rim Fire devastated 402 square miles around Yosemite national park, causing an estimated $127 million in damage.
In 2003 and 2007, dry seasons resulted in devastating wildfires.
The state is one of the United States' main agricultural producers, and farmers have been particularly affected by the drought.
"I am a fifth-generation cattle rancher, and it has never been this bad in my lifetime," said Kevin Kester, 58.
He said that family records showed that the last drought as severe was in the 1890s.