The Great Khali shocks WWE universe as he returns to help Jinder Mahal beat Randy Orton
Mahal has retained the WWE Championship.
The Great Khali is back in the WWE. The former WWE heavyweight champion returned to the company at Battleground, which took place at the Wells Fargo Center in Philadelphia, Pennsylvania, on 23 July.
The Great Khali made an appearance prior to the pay-per-view (PPV) event's main event, the Punjabi Prison match between Jinder Mahal and Randy Orton for the WWE Championship.
During the match, The Viper was forced to fend off attacks from The Singh Brothers, who surprised the 12-time WWE champion by appearing from under the ring.
When the help of The Singh Brothers was not enough to defeat Orton, the Maharaja called on The Great Khali. At one point in the fight, the giant stopped Orton from climbing his way out to freedom by wrapping his hand around the latter's throat.
With the help of The Singh Brothers and The Great Khali, Mahal once again came out on top, beating Orton for the third time and retaining the WWE Championship.
Rumours of The Great Khali returning to the federation circulated online ahead of the PPV event. The comeback of the giant at Battleground was intensely speculated on social media as he has often been credited as the man who made the Punjabi Prison match famous in the pro-wrestling scene.
"Who thinks the great khali will help Jinder Mahal in the pujabi prison at battle ground," a fan asked prior to the fight between Mahal and Orton.
Another said, "Gonna watch for mah boy Great Khali returning."
"Great Khali gonna do a run in tonight and knock Orton out shoot style," one said and another added, "Great Khali appearing and helping Mahal isn't unexpected."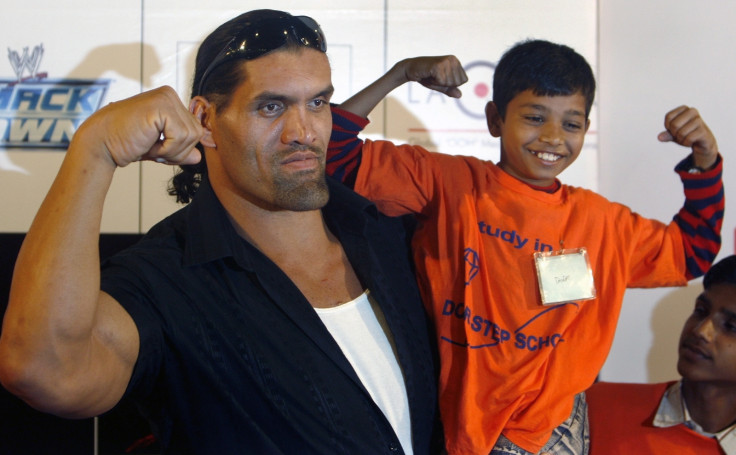 © Copyright IBTimes 2023. All rights reserved.