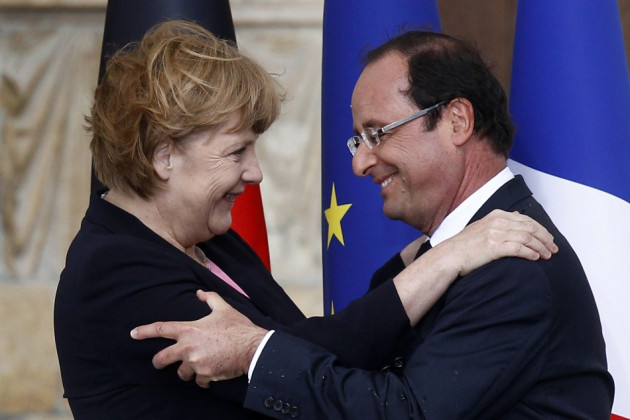 European Union (EU) leaders Angela Merkel and Francois Hollande are expected to refuse concessions or any leeway on Greece bringing in austerity measures in exchange for emergency bailout funds after Greek prime minister Antonis Samaras pleaded for more breathing space.
In scheduled talks in Athens, EU leaders were widely expected to tell Samaras that despite his pleas they will not grant more time for the country to meet the terms of the bailout agreement. Merkel was said to be ready to use France as an example that austerity measures can and will be carried out with Hollande proposing such measures in France's 2013 budget debate in September.
"I am going into these talks with the awareness that every partner sticks to his commitments," said Merkel.
Several German government officials said the country would not soften its demands on Greece, which has already been bailed out twice.
However, some members of Merkel's party have highlighted that different concessions can be made.
"With Greece, we cannot change the cornerstones of the aid package or tamper with the principle of conditionality. But I can imagine we could adapt certain things within that framework such as interest rates or maturities on credit, like we already did with the first package," said Norbert Barthle, member of Merkel's Christian Democratic Union (CDU) party.
Greece is committed to €11.5bn worth of cuts to public spending over the next two years to qualify for the next €33.5bn instalment of its second €130bn bailout.
The European Union and International Monetary Fund (IMF) have already provided two tranches of bailout funding worth €240bn but the country has battled to adhere to strict austerity measures.
The country pledged to make a number of significant job cuts, pare back pensions and salaries as well as raise taxes in order to hit the €11.5bn target. However, since the public spending cuts will lead to thousands of job losses, this will result in a reduction in tax revenues and therefore the government will have to buoy up the total amount through other means.
Samaras has voiced concern over meeting the bailout out commitments in the timeframe set out by the EU and has asked for more time to meet the agreements.
"All we want is a bit of air to breathe to get the economy running and to increase state income," Samaras told German daily newspaper Bild. "More time does not automatically mean more money. Let me be very explicit: We demand no additional money. We stand by our commitments and by fulfilling all our requirements. We have to crank up growth because that decreases the financial gaps."
Greece teeters on the brink of collapse after being in recession for four years and will need more money to stay afloat. Even with the bailout payments, the country is still expected to stay in recession for a fifth year.