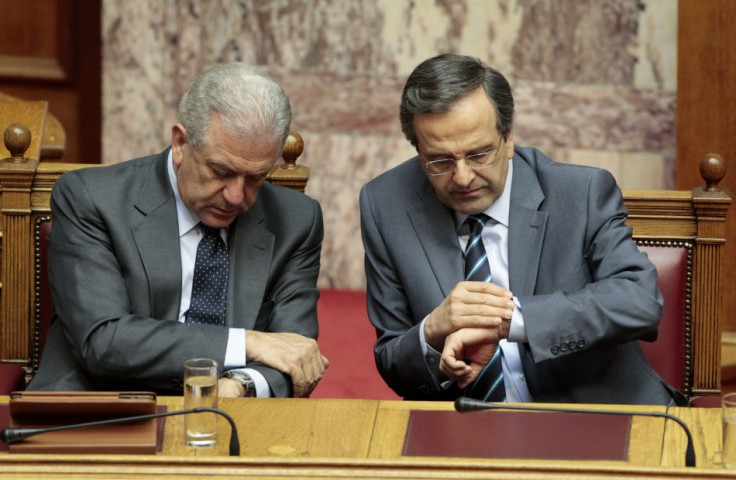 Greece's new government has found nearly €12bn in extra spending cuts and austerity measures that could satisfy its lenders that it's back on-track towards meeting its bailout commitments, according to multiple media reports.
Officials in Prime Ministers Antonis Samaras' coalition government are set to vote Thursday on around €11.7bn in austerity measures they hope will assuage the concerns of its lenders, the so-called Troika, or representatives of the European Union, the European Central Bank and the International Monetary Fund.
Troika officials are currently studying Greece's efforts to keep to spending and privatisation commitments linked to its €240bn bailout deals. Greece had been scheduled to receive its next disbursement of loans - some €31.5bn - this month but the cash had been held back over concerns that the new government was "months" behind schedule.
Samaras said earlier this week that he expects Greece's recession to deepen to at least 7 percent this year, nearly double the 4.7 percent estimate given to the Trokia in March. Tax receipts have missed targets by at least €1bn in the first half of the year and the new government has been accused of foot-dragging with respect to civil service wage cuts, redundancies and dismissals.
Yesterday Greece named a new privatisation minister, Yannis Emiris, and announced the sale of the state-controlled agricultural lender, ATEbank as part of its increasing desperate effort to win-back the confidence of its international lenders.
With a €3bn bond payment due next month and cash fast-running dry in the central bank's coffers, the need for the next tranche of EU and IMF loans is absolutely critical if Greece is to avoid both an international bond default and the payment of its exasperated public servants with IOUs. Presenting this new series of spending and austerity measures - originally due at the end of May - could be enough to convince the Troika to offer bridge financing to Greece until it delivers it formal assessment on whether Greece is meeting its bailout terms in September.
Samaras is scheduled to meet European Commission President Jose-Manuel Barroso later Thursday.
Analysts, however, are starting to prepare their clients for an inevitable exit from the Eurozone. Citigroup published a report Thursday that put the chances of leaving the Eurozone within the next 12 to 18 months as high as 90 percent, up from a previous 50 percent to 75 percent estimate previously.
Ordinary Greeks seem to be assigning a similar probability to the return of the Drachma as they continue to pull their cash out of the nation's banks. ECB data published today showed private sector deposits fell 5 percent last month - after a similar decline in May - taking the total to a six-year low of €156.2bn.
Further compounding the stress for the banking sector is the fact that, as of Wednesday, the ECB will no longer accept Greek government bonds as lending collateral. That leaves the banks having to borrow from the Emergency Liquidity Assistance programme that's controlled by the Greek central bank - and which is far more expensive than the 0.75 percent fund on offer at the ECB window.
Today's ECB data also indicated that Greek banks are holding the lowest level of government debt - €19.8bn - since records began in 1998.