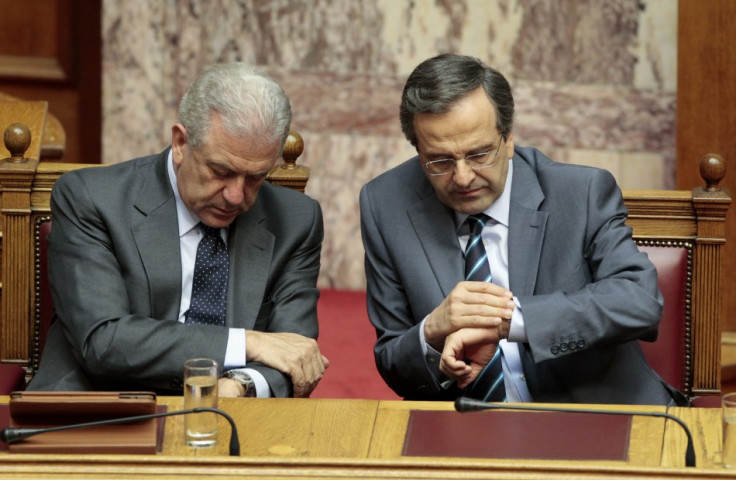 Citigroup raised the chances of Greece leaving the euro to 90 percent within the next 12 to 18 months, according to an updated forecast from the firm.
An analyst note from the bank cited prolonged economic weakness and spillover effects from the euro area as the reasons for its forecast.
"Our base case is for prolonged economic weakness and financial market strains in periphery countries, spilling over into renewed recession for the euro area as a whole this year and the next," said the bank.
Representatives from the troika of international creditors are currently in Athens to evaluate the progress of the bailout conditions.
Citigroup earlier put the chances of a Grexit at 50 percent to 75 percent and said it would happen on 1 January 2013, though it was not given as a precise date.
According to the report, there are also chances of both Spain and Italy requesting a formal bailout from European Union and International Monetary Fund (IMF) by the end of 2012, on top of the already requested banking aid.
"Over the next few years, the euro area end-game is likely to be a mix of EMU exit (Greece), a significant amount of sovereign debt and bank debt restructuring (Portugal, Ireland and, eventually, perhaps Italy, Spain and Cyprus) with only limited fiscal burden-sharing," Citi economists told Reuters.
Citigroup also expects further sovereign downgrades for the 17-nation currency bloc in the next two to three quarters.
It expects at least one notch downgrade for Austria, Belgium, France, Germany, Greece, Ireland, Italy, the Netherlands, Portugal and Spain by at least one credit rating agency.
Citi also expects that Britain will lose its AAA rating over the next two to three years due to the continued economic weakness. British economy shrank 0.7 percent in the second quarter marking the biggest quarter-on-quarter dip in three years.
Outside the euro area, Citi sees ratings cut by at least one notch for the US and Japan over the same period.