Greek protesters demonstrating against austerity measures have clashed with police at a rally outside parliament in Athens.
During a second day of strikes protesters at Athens' Syntagma Square clashed with riot police, who fired water cannons for the first time since the economic crisis began and tear gas.
The violence erupted after protesters attempted to storm parliament in a show of anger against the planned austerity package.
Molotov cocktails were also thrown at the police during the violence.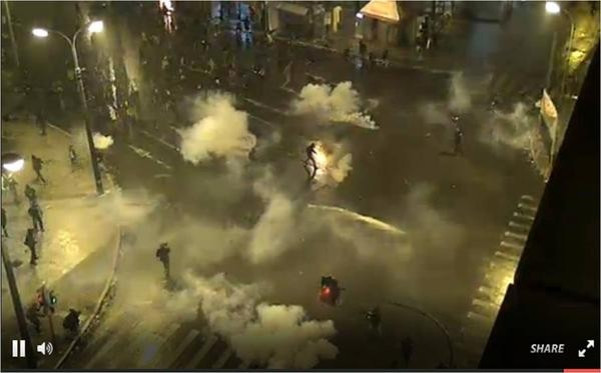 Debating lawmakers inside the embatttled building were interrupted as parliamentary employees went on strike to protest at wage cuts.
More than 80,000 protesters rallied outside parliament in Greece, as Prime Minister Antonis Samaras looked set to narrowly win support for the latest round of austerity cuts.
Parliament will vote on €13.5bn (£10.5bn) of cuts, the county's fourth round in three years, that include tax cuts, budget cuts and pension cuts.
A two-year increase in the country's retirement age and cuts to holiday benefits, severance pay and notice periods are also planned.
Greece in currently embroiled in a five-year-long recession and unemployment has soared to 25 percent.
Greece's next bailout loan installment of €31.5 billion, out of a total of €240 billion, is already five months overdue. Without it, Samaras says, Greece will run out of money on 16 November.
Greek unions are currently staging what they described as the "mother of all strikes", a 48-hour walkout which has brought public transport to grind to a halt and forcing the closure of schools, banks and other government building.
Nikos Kioutsoukis, secretary general of the private umbrella union GSEE, said: "If lawmakers vote in favour of the measures... they will have committed the biggest ever political and social crime against the country and the people.
"We won't let them destroy the country."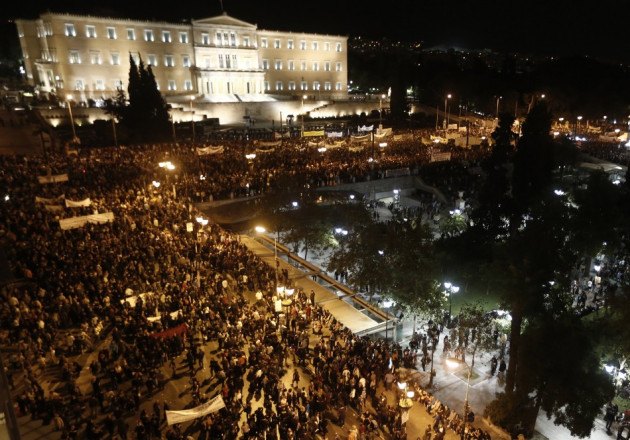 Alexis Tsipras, leader of the left-wing opposition party Syriza, said: "The bailout policies are completely catastrophic, outrageously absurd, and an utter failure.
"Let's not kid ourselves. The bailouts can no longer be acceptable, not even under the toughest blackmail."
Greece's finance minister Yannis Stournaras has implored the government to vote for the package. It is expected Samaras will pass the new measures with a slender majority in the 300-seat parliament.
Stournaras said: "The country needs to implement a package of measures in order to eradicate the threat of bankruptcy for good.
"We are at the final, crucial crossroads and we have to make the right decision, otherwise our progress so far will be forever diminished."