Greece is in the grip of a wave of strikes as workers protest against the austerity measures of prime minister Antonis Samaras, less than a day after violent clashes between police and demonstrators in Spain scarred a rally in Madrid.
The 24-hour demonstration, organised by two of Greece's biggest unions, will hit both private businesses and the public sector, shut down schools, hospitals and government offices, cripple public transport and the nation's air-traffic control centres and will culminate in a rally in Athens.
At issue is the more than €12bn in new austerity measures being negotiated between Samaras's coalition government and Greece's international lenders, the so-called troika of the European Union, the International Monetary Fund and the European Central Bank.
More than 90 percent of Greeks surveyed by the polling group MRB said the cuts proposed would hurt the most vulnerable in a society already decimated by five years of recession and record-high unemployment.
The troika insists the news cuts are a prerequisite for the release of €31.5bn in loans from the most recent bailout - cash that has been delayed since July and is vital for Greece's financial survival.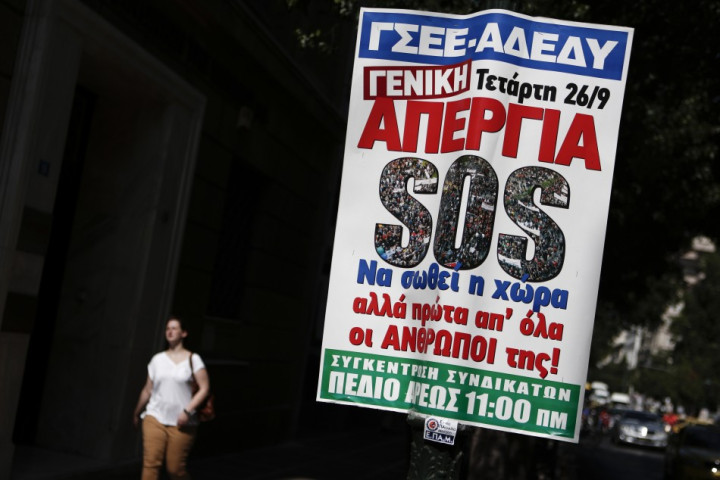 The protests - which in the past have escalated into fatal violence - will complicate the political dilemma facing Samaras and his coalition partners who formed a government last spring after a previous poll failed to deliver a general mandate.
A similar demonstration in Spain ended with violent clashes between police and protesters outside the parliamentary buildings in Madrid, leaving more than 60 people injured and dozens arrested.
Last week in Lisbon, tens of thousands of protesters gathered to rally against new tax rises and spending cuts unveiled by prime minister Pedro Passos Coelho as he attempted to steer Portugal out of its worst recession in three decades under the strict terms of its €78bn EU bailout.
Samaras needs to find ways to keep a ballooning budget deficit in check as the economy shrinks but also needs to balance the planned spending cuts so as to not alienate the nation's powerful unions. He also needs the support of his governing partners - the PanHellenic Socialist Movement (Pasok) and Democratic Left - without which his slim parliamentary majority would quickly disappear.
A recent poll suggested Samaras's New Democracy party had lost significant support since the 17 June vote and now sits in a virtual dead-heat among potential Greek voters with the upstart Syriza party of Alexis Tsprias, a firebrand anti-EU politician who has openly called for Greece to tear-up its bailout agreements and exit the single currency.
The Greek English language daily Ekathimerini reports that Samaras has been unable to gain consensus on around €7bn in civil service wages, jobs, retirement ages and pensions with coalition leaders Evangelos Venizelos of Pasok and Fotis Kouvelis of the Democratic Left.
The job cuts are a key plank in the austerity programme given the Troika's demand to reduce civil service workers by at least 150,000 (compared to 2010 levels) by the end of the year.
To date, Greece has a poor track record in both meeting the required targets of its bailout commitment and reversing the nose-dive of its struggling economy, which contracted by at least 6.2 percent in the three months ending in June and is on track to have lost nearly 20 percent of its value since 2007.
Greece's representative to the IMF, Thanos Catsambas, was quoted earlier this month as saying that Greece has only met around 22 percent of so-called "programme commitments" arranged with the so-called Troika of lenders and, as a result, the Fund would be unable to continue lending to Greece under the terms of its own charter.
Catsambas is said to have called the Troika requirements "totally unrealistic" in an interview published in the Wall Street Journal.
Greece's Finance Minister, Yannis Stournaras, conceded earlier this week that his country would likely need another two years and another €15bn in loans in order to meet the terms of the previous bailout arranged last year with the Troika, which include reducing its budget deficit to 3 percent of GDP by 2014 through a series of spending cuts, selling state assets worth around €50bn and regaining full access to public debt markets by 2020. Deputy Finance Minister Christos Staikouras has also suggested asking the ECB to rollover maturing Greek debt.
The Troika has already pledged more than €240bn through two separate bailouts to previous Greek governments while international bondholders have written off more than €100bn in Greek debt in an effort to keep the cash-strapped nation in the Eurozone and the single currency.
EU and IMF officials have been in Athens since the early summer assessing the government's record on implementing the promised reforms on public spending and had been due to issue a formal report on their findings in early October.
However, the Reuters news agency reported last week that the assessment may be delayed - at the behest of senior officials in President Barak Obama's administration - until after the US elections in November.