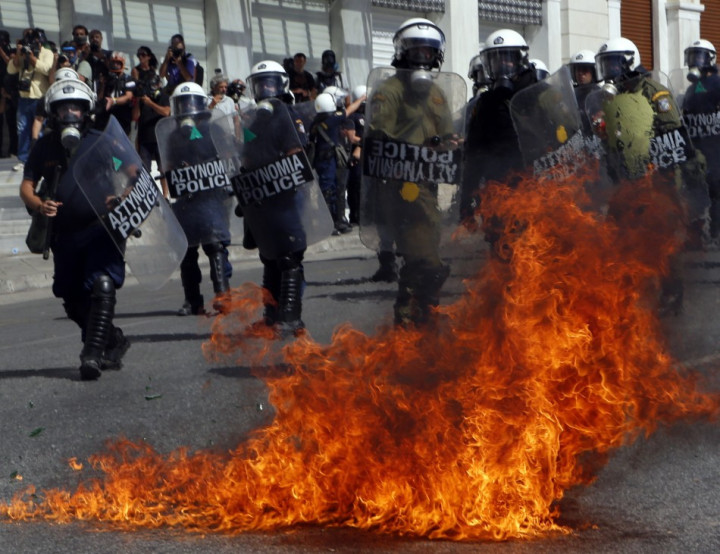 Greek police have brought violent protests under control after ugly scenes broke out during a 24-hour nationwide general strike that had been called in protest at fresh government austerity measures.
Clashes erupted near the parliamentary buildings in Athens when Molotov cocktails were hurled by hooded youths who were on the sidelines of the main protest march.
Riot police used teargas, despite restrictions on using it near the parliament. Protesters set fire to trees in the national gardens and used hammers to break paving stones and marble panels to use as weapons.
The majority of the 50,000 people who took to the streets of Athens remained calm, chanting "People, fight, they're drinking your blood" in time to a drumbeat.
The march was held during the first large-scale 24-hour strike against new austerity measures proposed by the government.
Organised by two of Greece's biggest unions, the strike hit private businesses and the public sector, shut down schools, hospitals and government offices.
More than €12bn in fresh cuts are being negotiated by Antonis Samaras's coalition government and Greece's international lenders, the so-called troika of the European Union, the International Monetary Fund and the European Central Bank.
The violence followed the same pattern of previous demonstrations, with fringe, hardline groups provoking police, witnesses said. Some Greeks alleged that the rioters were agents provocateurs, organised by the police thesmelves.
The civil servants union, ADEDY, said that at least 350,0000 Greeks had marched across the country in support of the strike.
"This is a warning to the government not to pass the measures," said Ilias Iliopoulos, a leading figure at ADEDY.
"Today was a huge success as witnessed by all those in the armed forces and police who also participated because they, too, will be affected by these cuts. The government must know that if wants to push us further into a corner, we will react."