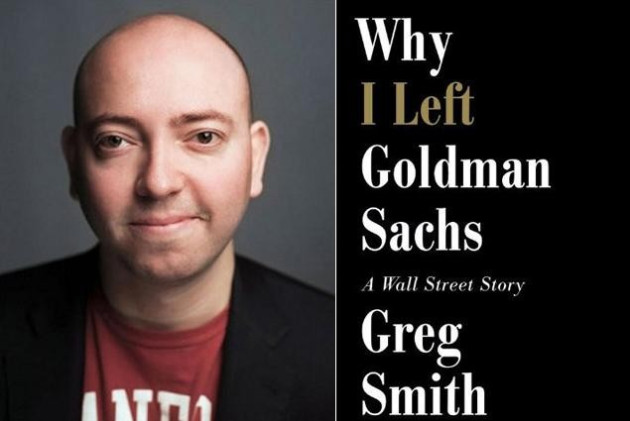 Greg Smith, a former vice-president at Goldman Sachs in London who wrote a scathing edtiorial for the New York Times on the loose ethics and slippery business practices inside the Wall Street giant last spring, published his highly anticipated book \"Why I Left Goldman Sachs: A Wall Street Story\" Monday.
Below is a selection of early reviews taken from some of the world\'s major media organisations.
Wall Street Journal: Exposing Wall Street - or Not
For while \"Why I Left Goldman Sachs\" presents itself as an exposé, it is really a typical Wall Street memoir, in which the author wistfully recounts his youthful exploits and trading-floor antics before haranguing others not to follow in his footsteps ... What Mr. Smith never does is show how a particular derivative that he or others sold predictably harmed clients. Goldman did sell a quantitative asset allocation program-essentially a formulaic guide to investment-to some clients. Mr. Smith believed that his clients didn\'t need the service and so declined to sell it to them.\"
Financial Times: \'Tell All\' Goldman Book Published
\"...the book looks unlikely to generate the same amount of reaction. While Mr Smith asserts that Goldman\'s famed \"culture\" changed during and immediately after the financial crisis, he provides few new examples of the bank gouging its clients or acting against their best interests ... One executive named in the book described Mr Smith\'s account of a particular episode as \"broadly accurate but totally out of context\".
New York Daily News: Greg Smith\'s \"Why I left Goldman Sachs\" Offers Little Insight into Wall Street
\"Absent here is the righteous fire that scorched Wall Street while echoing the fury of Zuccotti Park. In March\'s jeremiad, Smith railed against Goldman chiefs Lloyd Blankfein and Gary Cohn, accusing them of hastening \"a decline in the firm\'s moral fiber,\" with Goldman having gone from a trusted custodian of its clients\' wealth to a \"toxic and destructive\" manipulator of algorithms that defrauded unsuspecting investors like the government of Greece and pension funds across America.
Seven months later, Cohn is a \"genius\" motivator and CFO David Viniar is \"an extraordinarily impressive guy.\" Goldman, in this tempered telling, is less a schoolyard bully than a star student gone somewhat astray. The Masters of the Universe into whose caste Smith once aspired seem neither especially powerful nor wicked. In fact, Smith\'s first impression of Goldman, during his 2000 internship, is that everyone is \"genuine and nice.\" Such an anodyne opening gambit rarely makes for a page-turner.\"
Huffington Post: http://www.huffingtonpost.com/mark-gongloff/greg-smith-goldman-sachs-book_b_1988304.html
\"And much of the color in the book, which is scheduled for release on Monday, is unfortunately giggle-inducing at best: The time a managing director threw out a cheese salad to teach an intern a lesson. The time Smith saw Lloyd Blankfein naked. His going-away party at New York\'s SPiN ping-pong club, where \"a lot of alcohol was consumed, and a lot of table tennis was played.\"
In any event, though Goldman has admitted its conflicts publicly, Smith\'s allegations have not been well-received by the company, which still claims to be all about taking care of its clients. Maybe that\'s why Goldman has so aggressively pushed back against Smith, accusing him of just lashing out at the investment bank in the New York Times and in book form because of a failure to realize his true value and make him a managing director and pay him a million dollars per year to shave muppets.
We\'ll be reading and writing more about the Smith book in the days to come, but I can say that if this is the worst allegation to come out of it, Goldman really doesn\'t need to bother destroying the guy.
NY Times: A Tell-All on Goldman has Little Worth Telling
\"... stripped of its incendiary conclusions, Mr. Smith\'s manifesto was curiously short on facts. Other than the now-infamous reference to muppets - \"I have seen five different managing directors refer to their own clients as \'muppets,\' sometimes over internal e-mail\" - there were no examples of a toxic culture at work, no actual names of morally bankrupt people and no examples of a client getting ripped off.\"
Daily Beast: The Nine Biggest Revelations in \'Why I left Goldman Scahs\'
3. Smith was in a hot tub with a topless woman and felt weird about it.
\"I was in a hot tub in Vegas with three Goldman VPs, a managing director, a pre-IPO partner, and a topless woman.\"
Smith\'s best story of debauchery in the boom years is an account of a coworker\'s bachelor party in Vegas in April 2006. At first, Smith feels uneasy about going in the first place-\"the invitation gave me pause ... when Goldman heavy hitters go to Vegas, the price point is very different from going with your college buddies.\" When he gets to Sin City, he acknowledges that he \"may have been overthinking it\"; but a managing director is buying and eventually gives him $1,000 worth of chips, saying \"That\'s what it\'s like ... Enjoy the weekend.\"
Business Week: Imagine Greg Smith\'s Gall Asking Goldman For Raise: Books
\"Goldman\'s most famous opinion writer, has produced \"Why I Left Goldman Sachs.\" It tells the story of his 12 years at the firm, from an internship in the New York City office in 2000 to the roughly $500,000-a-year job as an executive director he walked away from in London.
The book has everything from seven Goldman guys in a Las Vegas hot-tub with a topless 23-year-old (\"Ms. Silicone\") to the perhaps less-electrifying image of chief executive Lloyd Blankfein \"walking around the changing room au naturel to dry off from his shower\" in the Goldman gym.
Smith describes his journey with a Wall-Street caliber perspective. That is to say, he has none.\"
Bloomberg: Greg Smith, Another Wall Street Con Man
\"He conned Grand Central Publishing, which paid him a reported $1.5 million for his \"tell-all\" book about how the culture at Goldman Sachs had deteriorated during his 12-year tenure into something he no longer recognized, when really Goldman has always been a stinging scorpion ... He has conned the producers of CBS\'s \"60 Minutes\" -- which is scheduled to air a segment about Smith and his book Sunday night ... He conned everyone into thinking that there was an untold narrative on Wall Street about how someone could be so offended by the behavior at these firms that he would up and quit, leaving behind untold millions in potential compensation, in the hope of making everyone understand how badly things need to be reformed. There is indeed a place for that narrative, and Wall Street does need serious reform. But, as we now know and have long suspected, Greg Smith has no standing to tell that story.\"