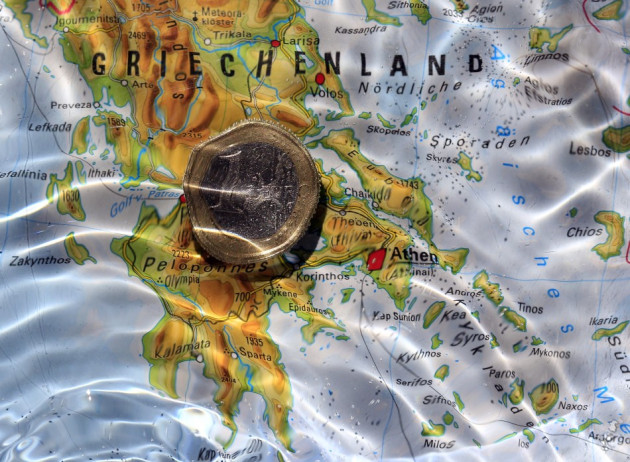 Greece's financial woes, strict austerity measures and further bailouts should not prompt a 'Grexit' believes Citigroup's chief foreign exchange expert.
Speaking at a debate over the future of the Euro and the rest of the FX markets in London, Steve Englander, managing director and head of G10 FX strategy at Citigroup delivered a strong warning that if Greece were to leave the Euro and cause a damaging schism in the European Union.
"From the circle I move in, the strongest marriages are held together by money, not love. The cost of the break-up would be tremendous and letting Greece leave the marriage would not only be shooting yourself in the foot but it would be shooting yourself in the head," said Englander.
Agreeing with Englander over the practical implementations of politicians proposals, Thomas Kressin, senior vice president and head of European Foreign Exchange Desk at PIMCO said that governments need to put their money where their mouths are.
"In the case of the 17 countries with the Euro, politicians have continually proposed good intentions and reforms to help the currency, by saying that the ECB would be a lender of last resort but it is up to them to show the markets that their plans are more than just good intentions," he said.
At the debate, on 16 October in the afternoon, the Euro breached the 1.30 level against the US dollar but the speakers remained cautious over long-term rises.
"Whenever there is news or rumours about Spain, whether getting more cash or something to do with its debt, there is a rally on the Euro. However, this is short-lived and will retreat back to levels below this," said Kressin.
Spain Clings On
As of 1242 GMT on 17 October the Euro reached a one-month high of 1.3130 against the dollar, after ratings agency Moody's kept Spain's debt rating at investment-grade level.
Spanish government 10-year bond yields dropped 24 basis points to 5.57 percent. Meanwhile, market participants are anticipating that Spain is close to formally requesting aid from its EU partners.
If this happens, it could potentially pave the way for Spain's central bank to begin buying its bonds.
"We are all aware that tail risks have been driving the Euro from mid last year until this year and I don't see a sustainable rally," said Englander.
On a wider debate over the Euro, other experts still remained bearish over the currency gathering strength for years to come.
"In Europe there are a number of policy measures proposed but there are a growing number of Target 2 imbalances, amongst other concerns, that will help keep the Euro down. As a long term strategist, at the moment, I do not see any fundamental reason for the Euro to get stronger," said Frances Hudson, global thematic strategist, multi-asset investing at Standard Life Investments.
"In regards to Spain, I do not see us being tempted by buying Spanish debt. A patient on life support isn't positive news," she added.