Rockstar Games is publishing a compilation boxset of some of its greatest hits, due for release on 13 November.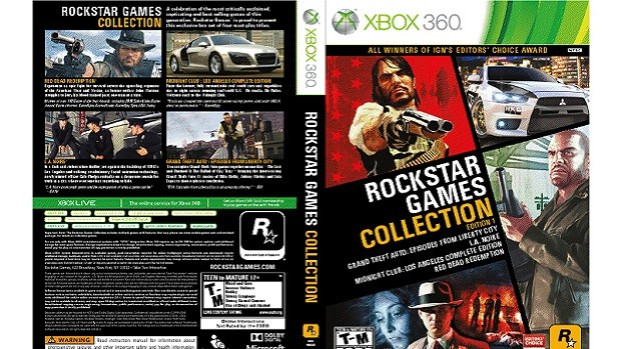 The Rockstar Games Collection: Edition 1, features five games: Grand Theft Auto: Episodes from Liberty City, both of the expansion packs to Grand Theft Auto IV; Red Dead Redemption, Rockstar's melancholic western from 2010; Midnight Club: Los Angeles, the 2008 street racing sim from Rockstar San Diego; and LA Noire, the grubby, adult 40's detective thriller by Team Bondi (originally published by Rockstar).
The original Grand Theft Auto IV will not feature. However, since this is only "Edition 1" there is the possibility of another Rockstar bundle in the future.
Rockstar Games Collection: Edition 1 will be available for the Xbox 360 and PS3 on 13 November, priced £39.99.
Sam Houser, founder of Rockstar Games, said the new collection will offer players "four amazing and wildly diverse experiences", adding:
"From the vast plains of the dying West to the chaos of Liberty City; and from a dark crime thriller to street racing in real-world Los Angeles, this collection contains some of our best work so far."
Reviews
Although Rockstar is notorious for borrowing ideas, rehashing Scorsese movies for GTA and John Woo and Tony Scott shoot 'em ups for Max Payne 3. But Red Dead Redemption, a revenge drama set in the final years of the American Frontier, is completely original, with only passing nods to other westerns. RDR is a bold and bleak story of its own, told by the game's landscape as much as its award-winning cutscenes.
LA Noire stars Mad Man regular Aaron Staton as Cole Phelps, an idealistic but troubled detective working in post-WW2 LA. Gameplay involves picking through crime scenes, pouring over dead bodies - often in nauseating detail - and interrogating witnesses and suspects. A truly adult game (characters swap grisly info with a grown-up, offhand frankness) LA Noire boasts superbly intricate animations, thanks to Team Bondi's facial scanning technology, which allows for actor's ticks and expressions to be mapped onto their in-game character.
Midnight Club: Los Angeles is a fairly cut-and-paste street racer from 2008, in which cars can be upgraded to Xzibit levels of gaudy bling, and there's an entire reimagined LA to cruise around. The soundtrack features cuts from Primal Scream, MGMT, Nas, Young Jeezy, The Chemical Brothers and Deadmau5.
Grand Theft Auto: Episodes From Liberty City was first released as a bundle pack in 2010, and comprises the two DLC (downloadable content) add-on games to the original GTA IV - The Lost and the Damned and The Ballad of Gay Tony. This bigger expansion pack centres around Liberty's nightlife, injecting the usually gritty Grand Theft Auto aesthetic with glitz, style and daft spectacle. Auto shotguns, sports cars, gold plated limos and base jumping are all part of Ballad's hyperbolic new look.