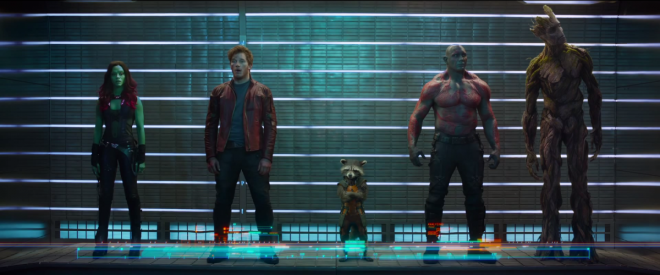 Marvel's Guardians of the Galaxy is set to take the world by storm later this year, and now we're able to take our first look with this brand new trailer.
It is the kind of film the world has been screaming out for ever since Indiana Jones hung up his whip in 1989 (let's forget the fourth film) - a swashbuckling tongue in cheek adventure.
Guardians of the Galaxy could very well be Marvel's own Star Wars, and here's all you need to know about it.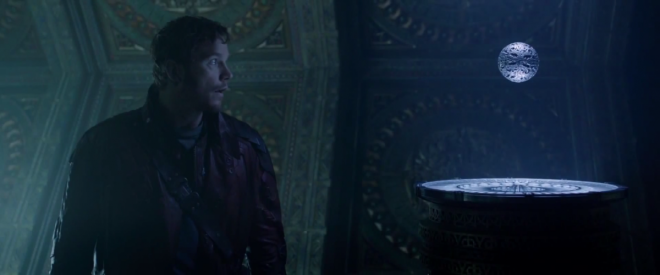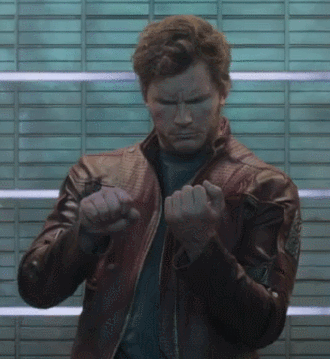 This is Peter Jason Quill, aka Starlord. Stolen from Earth as a child in the 80s, he's been raised deep in the galaxy and has become a roguish type in a similar mode to Han Solo – only he wishes he were that cool. Starlord is a nickname he's given himself, showing off the arrogance of the man, but there's a charm there too.
He also loves his 80s walkman, his only memento of home. He gets very protective over it, as we see later.
Quill is played by Chris Pratt, whose path to blockbuster leading man began with a part in US sitcom Parks and Recreation – in which he played a slacker. He was funny enough on that show to stay beyond what he was originally planned for, and has since had bit-roles in other films like The Five Year Engagement and Zero Dark Thirty.
Each has been leading to this, and he'll follow Guardians of the Galaxy up with Jurassic World, set for release next year. Believe me when I say, this man is going to be a mega star.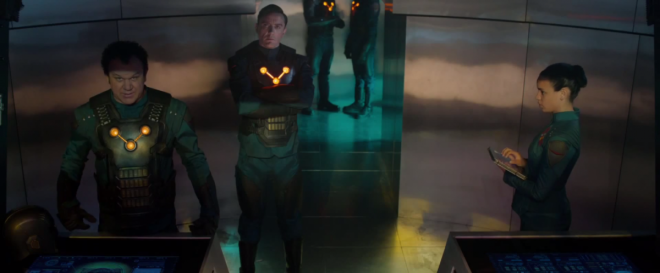 This on the left is Rhomann Dey (John C Reilly), a chief officer in the Nova Corps – a sort of intergalactic police force that brings the Guardians of the Galaxy together having arrested each of them. To Dey's right is British comic Peter Serafinowicz, his right hand man. Expect a lot of deadpan humour as evidenced in the trailer.
Also, because this film is mental. Glenn Close plays their boss.
Now, on to the team...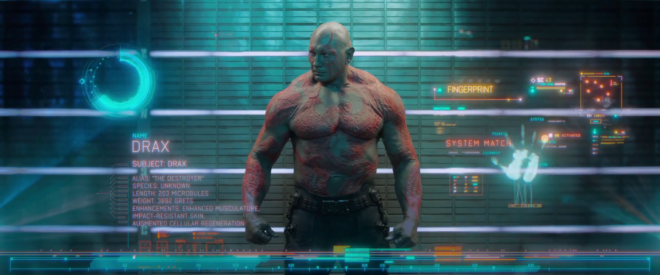 This is Drax the Destroyer. He's played by WWE wrestler Dave Bautista. His job in the film will be to provide the muscle and wreck some fools. As mentioned in the trailer he's on a quest for vengeance following the murder of his family. Also make note that his species is "unknown" – this will be important, as will who killed his family.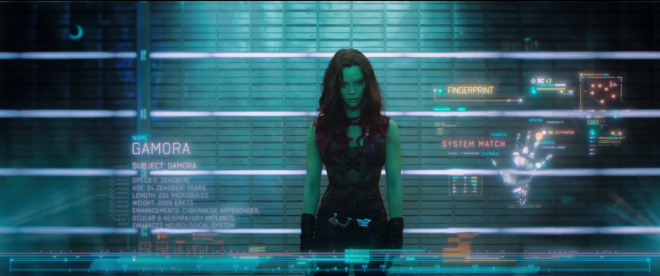 This is Gamora, played here by Zoe Saldana, who joins her third major Hollywood franchise, following Star Trek and Avatar. She's the adopted daughter of Thanos, the mad Titan – who was seen smirking in the credit sting of Avengers Assemble.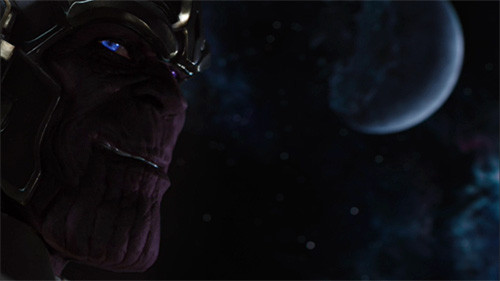 Thanos is a key player in Guardians of the Galaxy and the whole Marvel universe, and this film will go some way to setting up him for Avengers 3 - expected 2018. Marvel are always thinking ahead.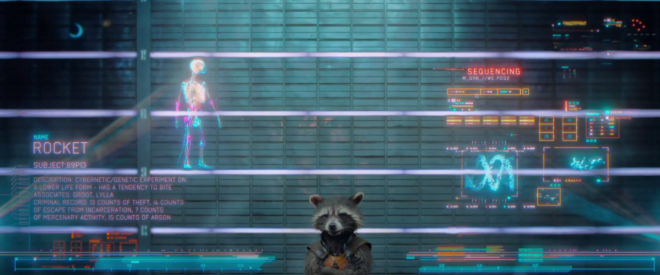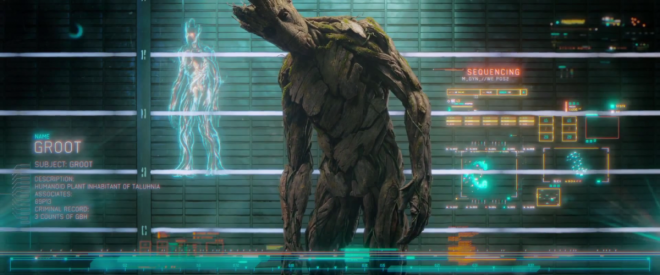 If you have or know a boy aged between 7 and 12 then you should be aware that Rocket Racoon and Groot are very likely going to become their favourite comic book heroes. Rocket is a genetically engineered talking Raccoon voiced by Oscar-nominee Bradley Cooper. He's ridiculous, but he is awesome.
Groot is a largely mute tree-like alien who as the trailer explains, acts as Rocket's muscle. In the comics he says only one thing, "I am Goot" and saying it in the film will be Fast & Furious star Vin Diesel. Expect the pair to do lots of things as cool as this.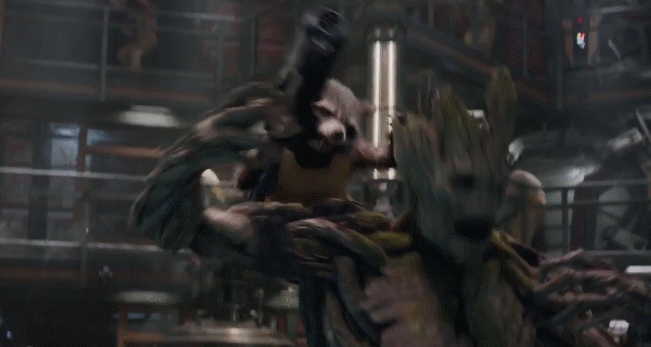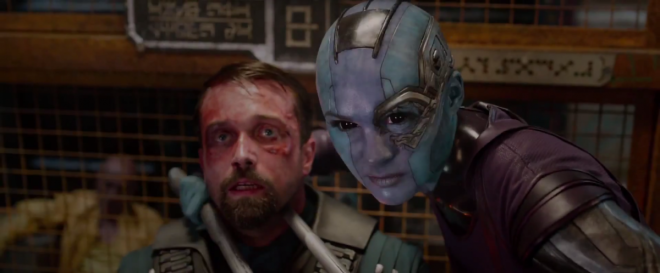 This is Nebula, and she's under that bald dome and blue skin she is played by former Doctor Who star Karen Gillan. Nebula is a pirate and mercenary who claims falsely to be the granddaughter of Thanos. When the mad titan finds out she has been lying about them being related, he's not very happy.
If you stayed after the credits of Thor: The Dark World, you'll have met The Collector – played by Benecio Del Toro. In that scene he came into possession of something called an Infinity Gem, further setting up Avengers 3 and the Infinity Gauntlet storyline that it will adapt.
Thanos wants the gauntlet and each of the gems that resides in it so he may control all of time and space. We've already met two gems (the Tesseract of Captain America and Avengers Assemble and the Aether of Thor: The Dark World. The third of five gems will be introduced in Guardians of the Galaxy.
That's all we've been shown so far. The trailer offers little in terms of plot, but The Collector and Thanos will each play a part, acting as forces behind the film's villain Ronan the Accuser, played by Lee Pace.
Here are few more awesome gifs from the trailer....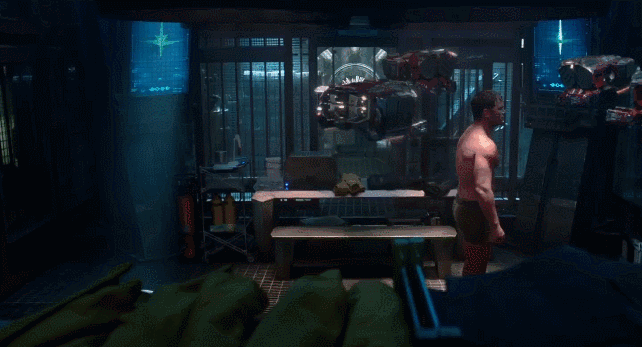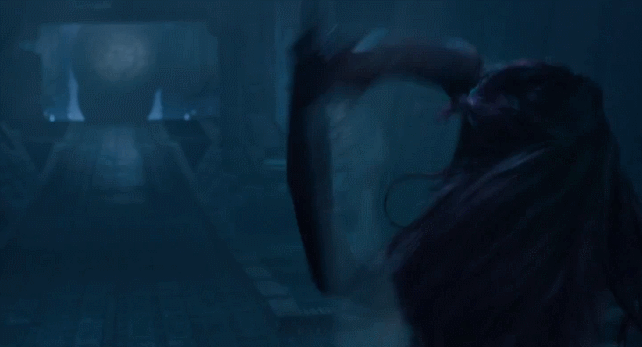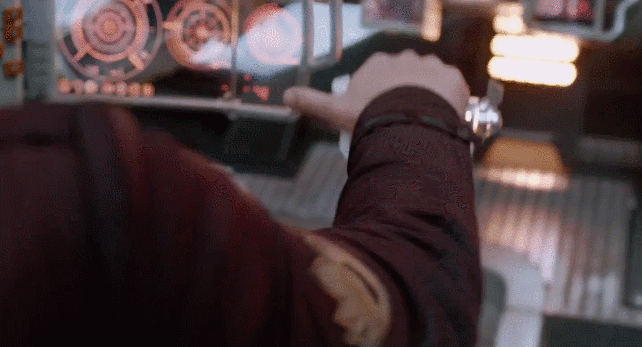 Directed by James Gunn, Guardians of the Galaxy will be released on 1 August.
As for the catchy song in the trailer, why that's Hooked On A Feeling by Blue Swede. It's now a superhero anthem.