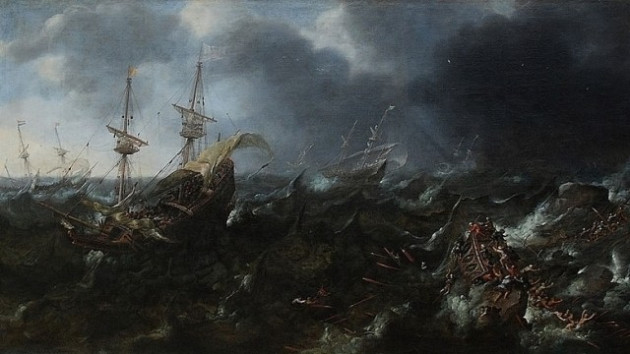 Art experts are debating whether Nicolas Sarkozy's former chief of staff, Claude Gueant, could have sold two paintings of an almost unheard-of Flemish Baroque master for the record price of €500,000 (£423,000).
Former French president's right-hand man Gueant came under fire for allegedly receiving the sum from the late Libyan dictator Mohammar Gaddafi. But he defended himself claiming the €500,000 came from the sale of Andries van Eertvelt paintings of the 17th century showing boats in a storm.
Van Eertvelt (1590 - 1652) is a marine painter well known among art dealers and enthusiasts but little known by the public. Gueant bought the two oeuvres (30x60, paint on wood), around 20 years ago. "I made the deal under personal circumstances, but I'm not an art investor," he said.
He claims he sold the two works in 2008 to a Malaysian lawyer, whose identity is unknown.
However, art experts are sceptical that Gueant could have profited that much for the paintings.
One giant tableau de van Eertvelt dated 1640 and entitled La Bataille de Lépante was sold for €140,000 (€168,000 fees included) in 2010 by Sotheby's Amsterdam and it was considered a one-time hit for the Flemish painter.
According to Artprice, an organisation that deals with price statistics in the art market, the medium price for van Eertvelt's pieces is around €41,000. The €500,000 appears as "an anomaly compared to the market price" Artprice says.
Another giant painting by the same artist on the Battle of Lepanto was auctioned by Sotheby's France in 2005 for an estimated price between €300,000 and €500,000 but no-one bought it at the auction.
Other reports state that two-thirds of van Eertvelt's works are sold at less than 10,000 euros.