Brighton manager Gus Poyet has admitted that he would be interested in one day managing Arsenal and suggested that his affiliation with Tottenham and Chelsea should not stop him from taking charge of the north London club.
The Uruguayan became a fan favourite during his stint in England and was adored by supporters of both Chelsea and Tottenham after helping the Blues win the FA Cup in 2000 and then scoring 14 goals in his debut season at White Hart Lane.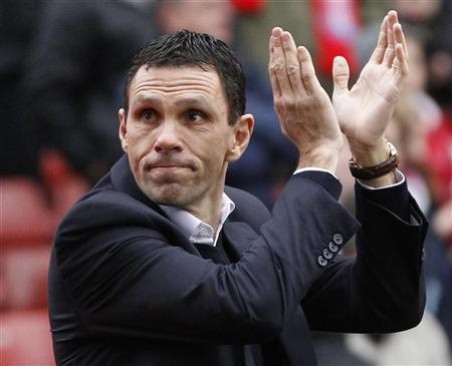 After retiring from the game Poyet moved quickly into coaching and worked alongside Dennis Wise at Swindon and Leeds before becoming a member of the Tottenham back room staff under Juande Ramos.
When Ramos was sacked he left Tottenham and just one year later took the Brighton job where he has enjoyed massive success. He won the LMA League Manager of the Year award in his first full season in charge as he led the club to promotion with four games to spare.
Brighton are currently seventh in the Championship and Poyet has revealed that he has lofty ambitions to manage a top side in the Premier League.
"I want to manage at the highest level and would love to manage Chelsea or Arsenal. Why not?" Poyet told the Evening Standard.
"Does my Chelsea or Tottenham past mean I cannot be Arsenal manager? Look, I've been at Leeds and the relationship between Leeds and Chelsea was not the best. If you ask any Leeds fan, my relationship with them was absolutely exceptional."
Poyet will have the chance to impress this weekend as his Brighton side face Arsenal in the 4th round of the FA Cup at the Amex and he will be looking to heap more misery on his opposite number Arsene Wenger.
"They've got plenty of weaknesses," added Poyet. "So, can we defend against their strength and take advantage of their weaknesses? Against a top team, if you have a good day and they don't have a very good day, maybe you win like we did against Newcastle [in the third round]."
Arsenal are currently in sixth place in the Premier League and have already been beaten by lower league opposition when they were defeated by Bradford in the Capital One Cup.
Poyet will be hoping that he can orchestrate another upset which will further highlight his managerial credentials and prove why he should one day take charge of a top Premier League club.