Ex-Chelsea boss Guus Hiddink has refused to rule out a return to Stamford Bridge. The Dutchman is in charge of Russian club Anzhi Makhachkala but insists he cannot predict the future. The 66-year-old took charge of the west London club in February 2009, after Brazilian Luiz Felipe Scolari was sacked, and led the Blues to the FA Cup.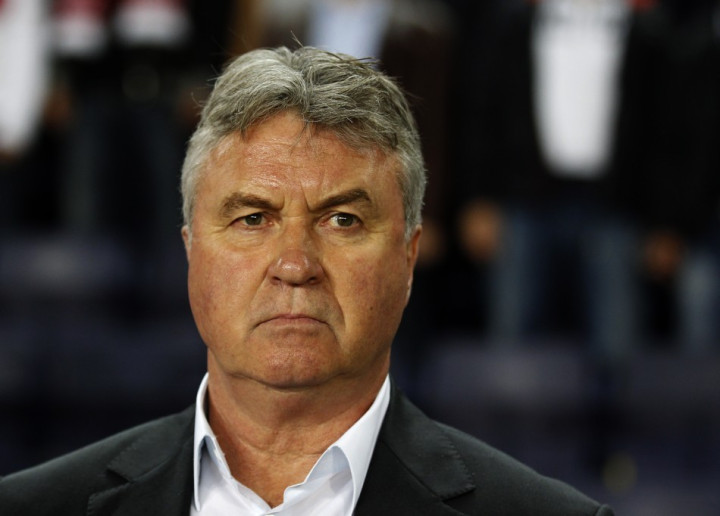 "I enjoyed my time [at Chelsea] very much," Goal.com quoted Hiddink as explaining, "I was there almost half a year and in 27 or 30 games, we lost only to Tottenham Hotspur and in the rest achieved good results. On top of that, I really enjoyed working with the group of players."
Chelsea are led by ex-Liverpool manager Rafael Benitez but the continuing war between the Spaniard and Chelsea's fans, coupled with his harsh remarks last week, make it very unlikely he will remain in charge beyond the summer.
Club owner Roman Abramovich could look to recall Hiddink, with whom he is believed to have a good relationship, having failed to land his No 1 target - ex-Barcelona boss Pep Guardiola.
"As long as I feel energetic and I'm not becoming and old, bitter, sour man, then I can go on. But I cannot predict where I am next season. And regarding other clubs, I'm 66 now and will be 67 in autumn," Hiddink continued.
Abramovich's relationship with his managers, going back to Claudio Ranieri's time at the helm, means high-profile managers have become wary of accepting a post at Stamford Bridge. Indeed, apart from Spanish champions Real Madrid, no other European football club has quite the reputation for sacking managers that the Blues have today.
The club have reportedly already made contact with Malaga boss Manuel Pellegrini, while former player Gus Poyet has expressed his desire to manage the Champions League winners.
Chelsea scraped a 1-0 win on Saturday 2 March, in a Premier League home game against West Brom, with Senegal striker Demba Ba scoring the only goal of the game. The win pushes them, temporarily, back to third in the league. Tottenham and Arsenal play each other in the north London derby later on Sunday, and a Spurs victory would push Chelsea down to fourth place.