Left-leaning Israeli daily Haaretz has refused to apologise for publishing a cartoon depicting Israeli prime minister Benjamin Netanyahu as a 9/11 hijacker, in a satire attacking the prime minister for damaging US/Israeli relations.
The cartoon shows Netanyahu in a plane labelled Israel heading toward a skyscraper, atop which the Stars and Stripes flies, in an allusion to the attacks on 11 September 2001 in which commercial airliners were flown into New York's Twin Towers.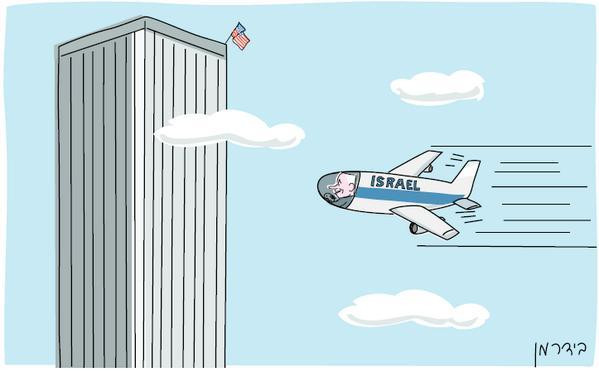 In an editorial yeserday, the paper's editor-in-chief Aluf Benn defended the decision to publish, after critics claimed the cartoon was disrespectful to those killed in 9/11, and stoked anti-semitic conspiracy theories.
"Amos Biderman's editorial cartoon was a reaction to the current state of mistrust between Prime Minister Netanyahu and the Obama administration," he writes.
He said that the picture was a reaction to recent Israeli settlements in the West Bank and east Jerusalem, and worsening US/Israeli relations, and writes "Biderman sought to warn against what he views as a grave threat to Israel, if its leadership continues to escalate its diplomatic confrontation with the United States."
He said that he "regrets" any "misreading" of the image offensive to those who were killed or survived the attacks, and rejects that the image supports anti-Semitic conspiracy theories linking 9/11 to the Jews.
Previously, critics rounded on the newspaper, with Abraham Foxman, president of the the Anti Defamation League, a US-based anti-semitism group, calling on the paper to apologise, and branding the cartoon "jarring and incredibly irresponsible".
"Not only does it completely misrepresent any tensions which may current exist between the US government and Mr. Netanyahu, it disrespects the memories of thousands of innocent Americans and others who tragically perished on 9/11, and the deep pain and trauma caused by the horrific attacks," he said.
He said that the cartoon stoked anti-Semitic conspiracy theories.
"As anti-Semitic conspiracy theories charging that Israel and/or Jews were behind the attacks are still believed by large swaths of the Muslim world, it is particularly jarring and incredibility irresponsible that an Israeli newspaper, especially one whose journalistic standards are widely respected, would resort to publishing such a highly offensive stereotype in the name of political satire," he said.
Artist Amos Biderman defended the cartoon, claiming the message behind it was that "Bibi [Netanyahu] is arrogantly and wantonly destroying Israel's ties with the US and is leading us to a disaster on the scale of 9/11," Haaretz reports.
"He's been acting like a bull in a china shop with the United States, which is Israel's most important strategic asset," Biderman told Haaretz.
The cartoon was published on Thursday, a day after an unnamed US official was quoted in the Atlantic describing Netanyahu as "chickenshit" over his alleged cowardice and pettiness.
The official also criticized Netanyahu for his policies towards Israeli settlement of east Jerusalem and the West Bank, and his determination to launch a pre-emptive strike against Iran, which is alleged to be building a nuclear weapon.