Hacking Team sold spy software to blacklisted Sudan and 'stonewalled UN investigation'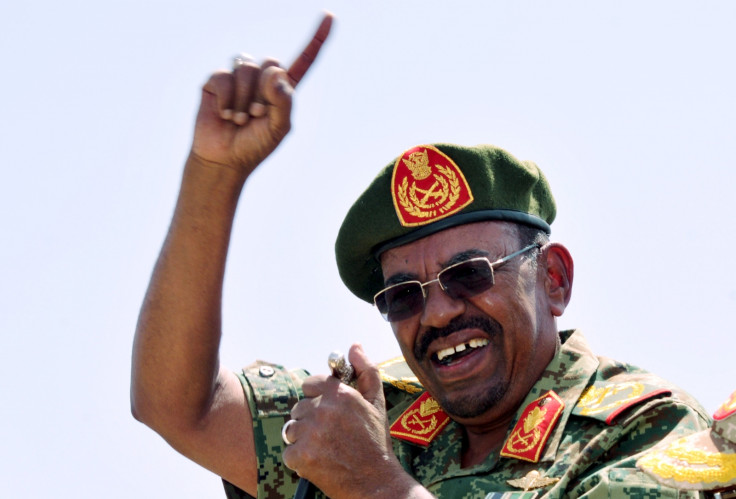 An Italian company providing surveillance systems to governments and law enforcement agencies has been providing cyberweapons to Sudan and stonewalling a UN investigation into their business, according to a massive leak of information stolen from the company by hackers.
Unknown hackers dumped a Torrent file with 400GB of internal documents, emails and source code belonging to Milan-based Hacking Team, which has been offering its intrusive technology to governments for almost a decade.
The company is listed by Reporters without Borders on its Enemies of the Internet index for its alleged sale of cybertools to repressive regimes which are known for illegally monitoring activists.
Hacking Team has categorically denied these charges and claimed they have never done business with Sudan, which is subject to EU restrictive measures that include an arms embargo.
However, a leaked spreadsheet lists Russia and Sudan among the countries "not officially supported".

Moreover, a subsequent invoice for €480,000 dated July 2012 seems to prove that the Italian company was involved in selling surveillance software to Sudan.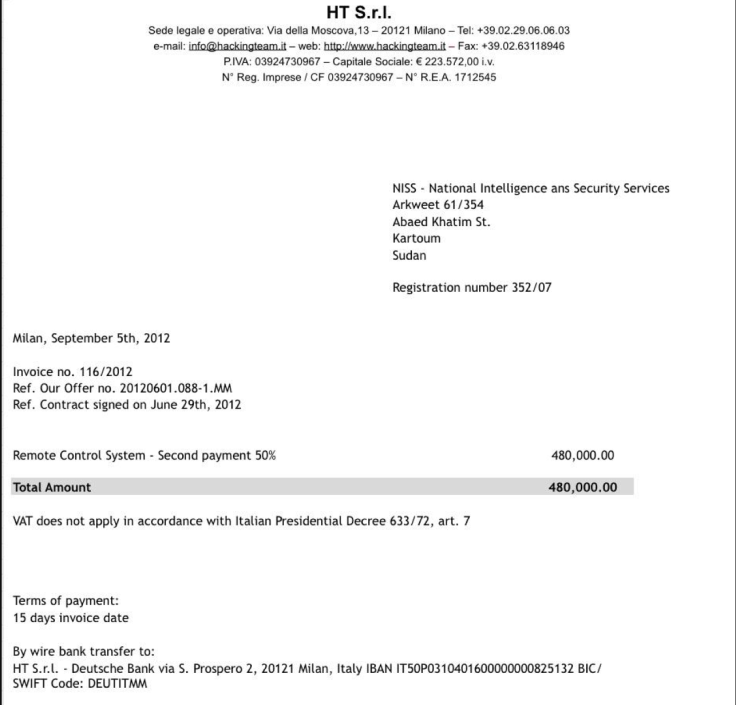 The sale of the cyberweapons to Sudan is one of the most controversial revelations from the data dump, as the United Nations has been investigating a report by Citizen Lab that Hacking Team's tools were being used in the country.
Christopher Soghoian from the American Civil Liberties Union (ACLU) said that the documents show that Hacking Team has been "stonewalling" the one-year long UN investigation and told the investigators that it doesn't have a business relationship with the Sudanese government.
Another leaked email dated 10 March 2015 shows the official reply of the Italian ambassador to the UN in New York, Sebastiano Cardi, telling the United Nations that Hacking Team "currently has no business relations or any agreements that would allow the Sudan or any entity in its territory to use the [Remote Control] software".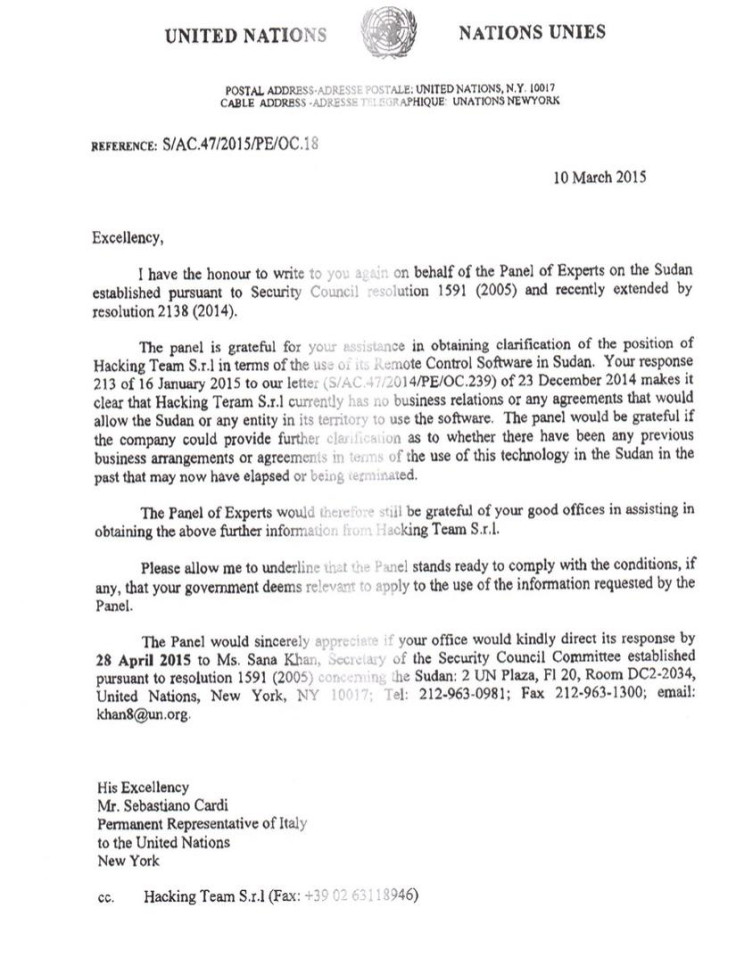 Human Rights Watch reported that Sudanese authorities have used excessive violence against protesters resulting in their deaths. More than 170 people were killed in 2013.
A UN arms embargo on Sudan, which is incorporated into EU and UK law, bans the export of "arms and related material" to the the country. The Sudan embargo also prohibits technical assistance, brokering services and other military-related services.
Hacking Team has yet to comment on the leak publicly or respond to a request for comment from IBTimes UK.
© Copyright IBTimes 2023. All rights reserved.