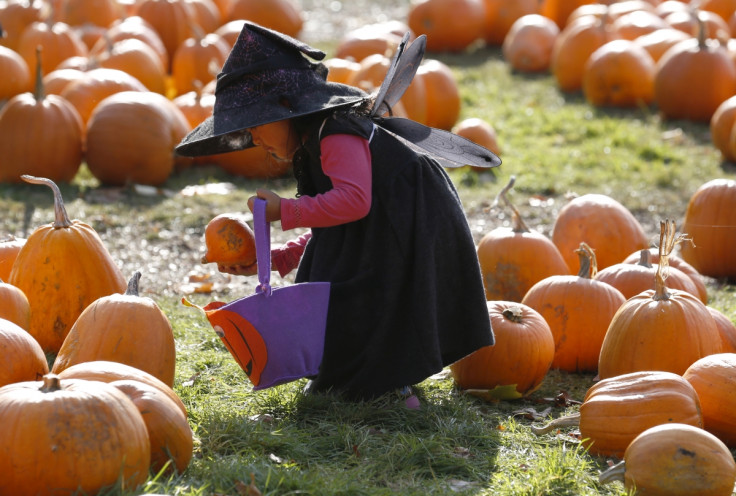 The UK is set to enjoy one of the mildest Halloweens on record as temperatures could reach up to 20C in some areas. The summery weather will follow a relatively warm week, with highs of 19C in the capital on 27 October.
While it won't be the warmest Halloween on record, temperatures are expected to reach highs of 17C-20C in parts of the south-east, with the rest of the UK seeing temperatures in the mid to high teens. The north-west of Scotland and Northern Ireland are expected to see the coldest weather, but even here forecasters are predicting above average weather.
A spokesperson for the Weather Network said: "Saturday is a culmination of an already mild week. A deep area of low pressure to the west of Britain is allowing milder air from south-west Europe to blow over much of the UK."
The warmest Halloween on record was seen in 2014, when temperatures rose to 24C in west London and Kent. The Met Office told IBTimes UK that it is unlikely to get that warm this year, however, the mild weather will be enjoyed by many who have been expecting the "coldest winter in 50 years" to hit Britain. Current October temperatures contrast sharply with the coldest Halloween on record in 1932, where daytime temperatures dropped to 0.6C in Scotland.
While most parts of the UK are expected to see dry conditions and sunny spells alongside the warm weather, a spokesperson for the Weather Network has warned that "higher temperatures do not always mean more sunshine". However, this is expected to be confined to parts of the far north and west, leaving the south to enjoy the best of the near-summer conditions.
The spokesperson said: "The most likely areas to see rainfall during the evening are in the far north and west as a front lingers – it could be wet – although confidence of this is currently quite low so you might just keep your pumpkins alight on the night."
However, the country will have to brave stormier conditions before the Halloween heatwave kicks in. Flood alerts have been issued for parts of England, Wales and Scotland on Wednesday (28 October), with the south-west of England expected to be the worst hit region as 18 yellow warnings and 13 red warnings have been placed. The Met Office warned that some places could see up to 30mm of rainfall within a few hours.
Strong winds and more wet weather are predicted on Thursday (29 October) before we head into the weekend. Temperatures are expected to remain mild throughout the week, reaching 16C on Thursday.