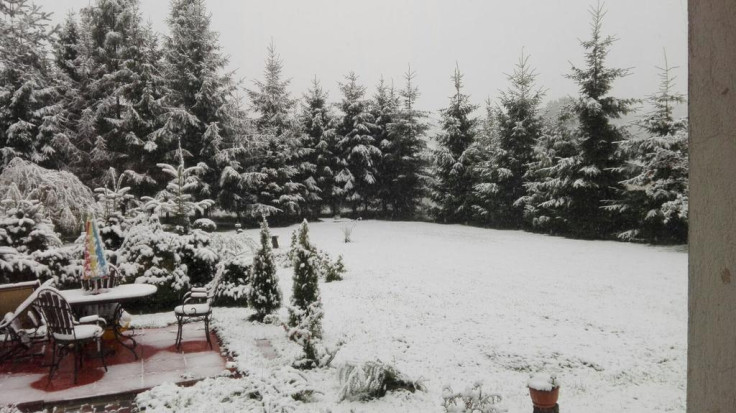 The Met Office has said parts of Europe can expect "severe weather [and] significant snowfall" over the next few days, with temperatures 5C to 10C below average in northern Europe. Poland, Slovakia, and Ukraine are among those that are likely to experience heavy snow, with Poland receiving up to 10cm of snow on Monday (12 October).
The snowfall is not expected to reach the UK any time soon as storms moving from west to east across Europe have created a north-south divide in air temperature. Temperatures in the UK are likely to remain mild throughout the winter due to a high pressure system to the north of the United Kingdom.
The Met Office confirmed that rumours of snow in the UK within the next few weeks are premature. A spokesperson said that there is no unusual weather predicted for the UK and that while parts of the Scottish mountains could see some sleet, there is nothing unusual about this.
The Met Office told IBTimes UK: "We're not expecting anything out of the ordinary. All it is, is a couple of a degrees colder. There's no truth in the rumours that we're going to see widespread snow."
As the 26 October half-term break for schools approaches, many took to Twitter to speak of their excitement about visiting some of the snow-covered countries over the holidays. However, southern parts of Europe are likely to get only rainfall, which has already resulted in flooding in many areas.
The north-east of Europe has seen substantial snowfall as temperatures plummet to significantly lower than the annual averages, reaching 5C in parts of Poland. According to forecasters, 15cm to 30cm of snow is expected on some of the hills, which have so far fallen under "blizzard conditions" due to the strong winds in the region. The snow could also make its way down to lower ground.
With most of the south and the Mediterranean experiencing mild temperatures, Scandinavia has been hit by "unusually cold" weather. Forecasters have predicted up to 600mm of rain in some parts of the Mediterranean over the next few days, particularly in Croatia, Slovenia, Bosnia and Herzegovina, Bulgaria, and parts of Italy. Croatia has already seen up to 130mm of rainfall, which is nearly a month's worth of rainfall, in just 24 hours.