A co-founder of the Hamas terror group leader died after accidentally shooting himself in the head whilst he was cleaning his gun, say reports.
Senior Hamas official Imad al-Alami, was one of the founders of the movement in 1987, but suffered a gunshot wound to the head on 9 January this year at his home in Gaza City.
Classified a "specially designated global terrorist" by the US in 2003, al-Alawi died at the Shifa Hospital in Gaza City on Tuesday (30 January), where he was in intensive care for the past three weeks.
The terror group's spokesperson Fawzi Barhoum said the 62-year-old, a former member of Hamas's political bureau, had accidentally discharged his own weapon while inspecting it in his home.
Al-Alami was seen as hardliner in the Palestinian Sunni-Islamic fundamentalist organisation and a funeral procession for him in Gaza City saw hundreds take to the streets including several top Hamas officials.
Also known as Abu Hamam, al-Alami was a supporter of Hamas's ties with Iran and was seriously injured in a 2014 bombing. As a result he had to be treated in Turkey, where one of his legs had to be amputated.
Although reporting his shooting had been an accident on 9 January Hamas has not released any further information about the circumstances leaving some to speculate he may have been murdered, or could have possibly been suicide.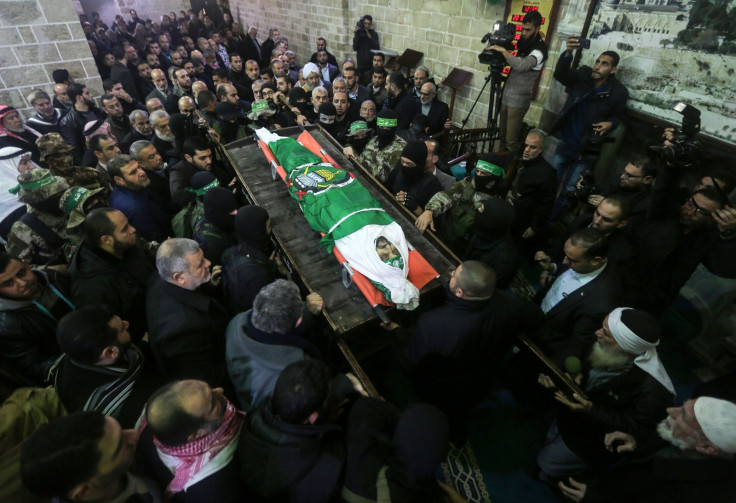 Hamas Politburo Chief Ismail Haniyeh praised the senior Hamas official, according to the Jerusalem Post, saying: "Hamas was Abu Hamam and Abu Hamas was Hamas...He was able to deal with changes and transformations and prescribe [appropriate] policies and strategies for the different periods of time."
Al-Alami, who had been serving as deputy until 2017, and had been the group's main leader in Tehran, Iran, for many years, before that, the Times of Israel reported.
In 2008 he moved to Damascus until the start of the Syrian Civil War when he returned to Gaza.