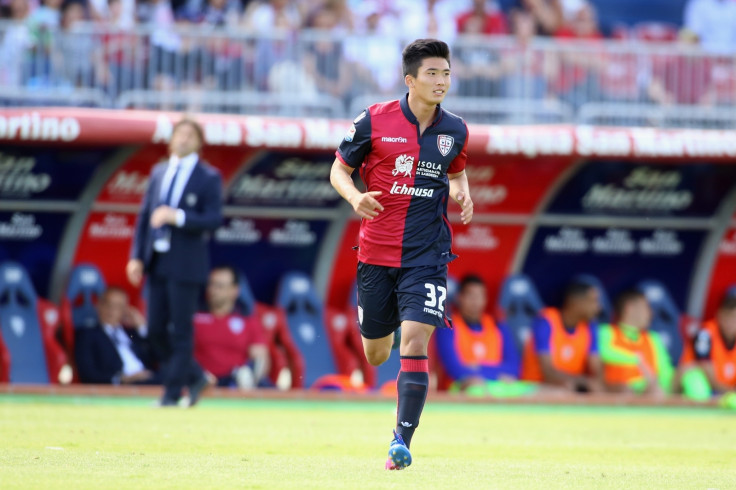 As far as developments coming out of North Korea rank, the emergence of a promising young footballer lies pretty far down the world news agenda. But in Han Kwang-Song, Kim Jong-un and the Democratic Republic of Korea have an ambassador making a very different sort of impression in Europe.
Han made history on Sunday 9 April, becoming the first North Korean to ever score in Serie A, Italy's top flight. Summoned from the substitutes' bench by Cagliari manager Massimo Rastelli, the 18-year-old replaced Marco Sau after 81 minutes and found the back of the net deep into injury time in a 3-2 defeat to Torino.
A native of North Korea's capital Pyongyang, Han has wasted little time in impressing top brass at the Sardinian outfit. Earlier this year, he was invited to join on a trial basis, impressing enough to earn a contract in March that made him eligible to play in first-team matches.
After three appearances for the Under-19 side in the Torneo di Viareggio, Italy's most prestigious youth competition, the teenager made his full debut on 4 April, featuring for the final four minutes of a 3-1 win over Palermo.
His second appearance again came off the bench last Sunday, scoring his first goal for the club with a header past England international Joe Hart that firmly announced his arrival on the main stage.
It was a moment that made him the youngest scorer in Serie A this season. "I am very happy with my first goal in Serie A," he said. "I thank the team, the coach and teammates. I feel at home in Cagliari."
Loaned to Perugia in Italy's second tier, his progress has been impressive, having scored five goals in six appearances this season. But according to club president Massimiliano Santopadre, North Korea don't want the rest of the world to hear from him. Scheduled to appear on Italian television, Han received a call from his homeland instructing him to pull out of the media appearance, with Santoparde explaining to La Stampa their player was "scared" by the situation.
"A call from a not very clear ministry figure arrived and it blocked everything," Santopadre said. "Negotiating, like on the transfer market, was impossible, also because Pyongyang want to talk only and exclusively with Han.
"The situation with their government has become even more rigid and their footballers have been prohibited from appearing on TV, otherwise they would have repatriated him. Han is scared."
What sort his player is Han Kwang-Song?
Cagliari describe Han as a two-footed striker whose "dribbling, eye for goal and vision of the game are his principal characteristics." He was part of the Under-16 side that won the Asian Championship in 2014, scoring in the final against South Korea. A year later, he shone in the Fifa Under-17 World Cup, where the North Koreans qualified from a group that also included Russia, Costa RIca and South Africa.
What does his immediate future hold?
Cagliari have acted quickly since that debut goal, tying the youngster down to a five-year deal - his first professional contract. With seven games of the season remaining, Cagliari are 15 points clear of relegation. With no pressure on them as the campaign reaches its climax, there could be more changes for Han to impress in the first team ahead.
North Korea's football history in Europe
A winger by the name of Choe Song Hyok could have beaten Han to the punch last year and become North Korea's first Serie A player. Choe joined Fiorentina's Primavera (youth team) ranks in 2016. However, just four months after his arrival in Italy, he was released by La Viola following an investigation into his contract. The Italian parliament even intervened in what became a mini scandal, after it was revealed 70% of the player's wages were being paid directly back to the Pyongyang government.
For many people, the abiding memory of North Korea as a footballing power will be their appearance at the 2010 World Cup – specifically the 7-0 defeat to Portugal.
But a small number of North Koreans have already made timid steps into Europe's big leagues. Japan-born Jong Tae-Se, most notable for uncontrollably weeping during the DRK national anthem prior to a match against Brazil during their World Cup appearance, joined German club VfL Bochum in 2010, enjoying moderate success in the second tier of German football and scoring 14 goals.
Pak Kwang-Ryong became the first North Korean to play in the Uefa Champions League, makiing a brief sub's appearance for FC Basel against Manchester United in the group stages of the 2011-12 campaign. He still plies his trade in Switzerland with Lausanne.