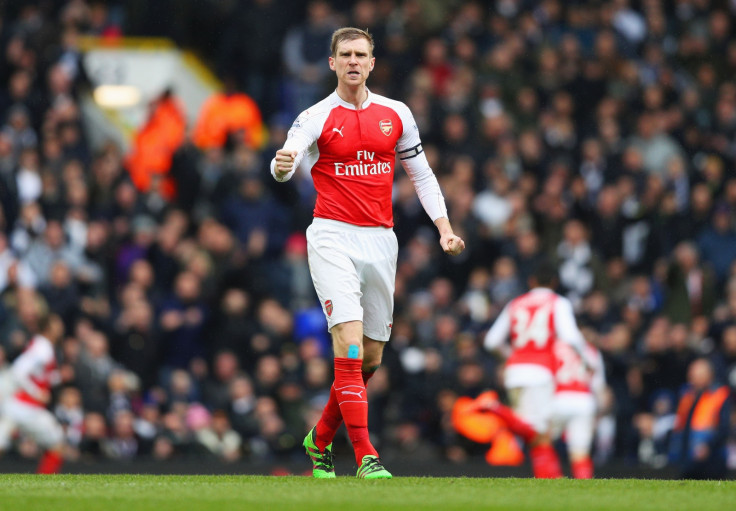 Hannover are hopeful of convincing Arsenal captain Per Mertesacker to re-join the club, but admit a deal will not be possible until they achieve promotion back to the Bundesliga. The 32-year-old has expressed an interest in returning to Germany in the January transfer window, but those intentions may come too soon for his former side.
Mertesacker has not played for the Gunners this season due to a knee injury that is expected to keep him out for the remainder of the year. The centre-back hopes to reclaim a place in the North Londoners' first team upon his return, but Shkodran Mustafi's impressive start to life in the Premier League since joining from Valencia means his future is uncertain.
The World Cup winner is out of contract at the end of the 2016-17 campaign and is yet to be offered a new deal. Mertesacker has confirmed he will review his future at Arsenal in the January transfer window and has expressed an interest in returning to his homeland, where he spent the early years of his professional career with Hannover and Werder Bremen.
Having joined Hannover aged just 11, the club remain close to Mertesacker's heart and they are hopeful of luring back to the HDI Arena in the near future. However, having suffered relegation from the Bundesliga last term, they are realistic over the possibility of securing a deal.
"Everybody knows what Hannover means to Per. Maybe we can make him enthusiastic about a return," director Martin Bader told Bild. "The issue of Per Mertesacker is our currently not high on the agenda. It's obvious, because we are second division and he is captain of Arsenal.
"A lot has to come together so that a return is possible. The first requirement is that we ascend. First of all, Hannover will have to return to the Bundesliga. Right now that's far away and sounds crazy. But in football many things are possible."
Having won five of their opening eight league games, Hannover occupy one of the two automatic promotion places in 2. Bundesliga. Should they be able to cement that position heading into the new year it may be enough to broker a deal to sign Mertesacker either in January or at the end of the season on a free transfer.
With Mustafi and Laurent Koscielny having struck up a decent partnership at the heart of the Arsenal defence, Mertesacker faces a tough task to regain his place in Arsene Wenger's side. And with his future prospects at the Emirates Stadium looking grim, the defender has already begun considering his next move.
"My contract with Arsenal expires next year, and I would it quite like to change something. That's my driving," he told Kicker. "Of course, I wonder what would make sense for me, if it should not go on with Arsenal. Where can I be helpful then? What do I want? Could I possibly go back to Germany again? I imagine, what prospects can open up for me and the family, also in Germany. And I think that from January these thoughts are very intensified. It's for expiring contracts then also so that one off this time can listen other things. I'm completely open."