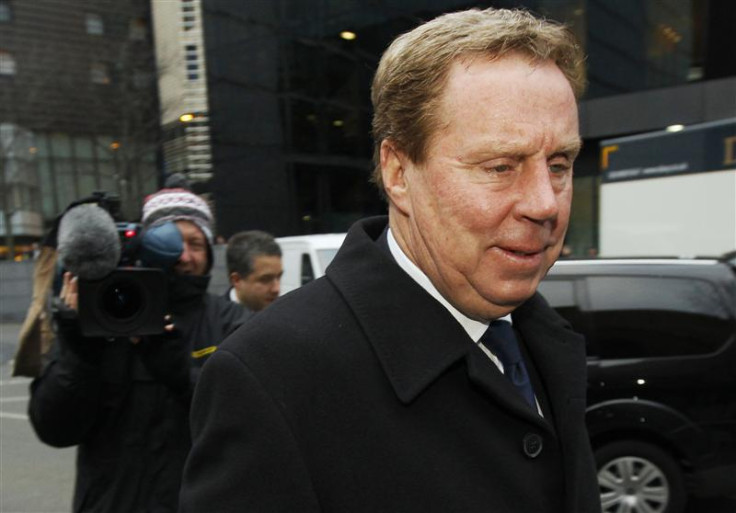 Tottenham manager Harry Redknapp allegedly failed to declare his offshore bank account for a number of years, jurors have heard.
The prosecution at Southwark Crown Court allege the former Portsmouth manager did not tell his accountant or bank about an account in the tax haven of Monaco, and John Black QC claims Redknapp "was feigning almost complete ignorance of its existence" during the Lord Stevens enquiry (or Quest Enquiry) into illicit payments in football in 2006.
On Monday, Redknapp had been accused of using a bank account under the name of his pet dog in order to allegedly receive $295,000 which he had no intention of declaring for tax purposes.
The Tottenham boss, who has been widely touted as the most viable candidate to succeed Fabio Capello as the next England manager, was allegedly paid "bungs or offshore bonuses" by the former Portsmouth chairman Milan Mandaric, Southwark Crown Court heard on Monday, in a bid to share profits from player sales during his reign at Fratton Park.
The aforementioned prosecuting QC urged the jury on Tuesday to consider how Redknapp "could be unaware of the bank account?" despite his finances being investigated on two separate occasions.
Redknapp reportedly only registered the bank account, allegedly titled "Rosie 47" after the name of his pet and the year of his birth, following his arrest in 2008.
John Black QC told Southwark Crown Court, as published in The Times: "The existence of the bank account was not registered to Revenue & Customs for a period of six years, two months... after Mr Redknapp was first arrested and questioned in the course of this investigation."
In addition to being informed of Redknapp's failure to inform tax inspectors of the aforementioned account, on the second day of the trial, the prosecution read out transcripts of conversations between the 64-year-old manager, Mandaric and a News of The World reporter, during which they denied the manager had been paid "bungs".
In these taped transcripts, Mandaric reportedly said the Monaco account was "nothing to do with bonuses" and "not money from football"; while Redknapp explained he had been "due 10%" of net profits from transfers when he was appointed director of football at Portsmouth in June 2001, but this figure halved when he was appointed manager in March 2002.
According to the BBC, Redknapp is alleged to have told reporters: "I was due 10%. They paid me 5%. I said to Mandaric, you owe me 10%, not 5%. Mandaric said don't worry, I'll sort it."
The reporter is then alleged to have asked Redknapp whether or not this monetary sum was a 'bung', and he reportedly replied: "Don't say bung. How can it be a bung when it was paid by the chairman?"
On Monday, the court heard Redknapp described as a "hard-headed businessman" who negotiated bonuses worth up to £189,000 on top of his salary, which he had no intention of declaring for tax purposes.
Redknapp and Mandaric deny two counts of cheating public revenue.
The first charge alleges that Mandaric paid £93,300 into a bank account opened by Redknapp in Monaco, in order to allegedly avoid paying income tax and national insurance between April 1, 2002 and November 28, 2007.
The second charge is for the same offence between May 1, 2004, and November 28 2007, when a sum of £97,000 was allegedly paid by Mandaric into the aforementioned Monaco bank account.
The trial continues.