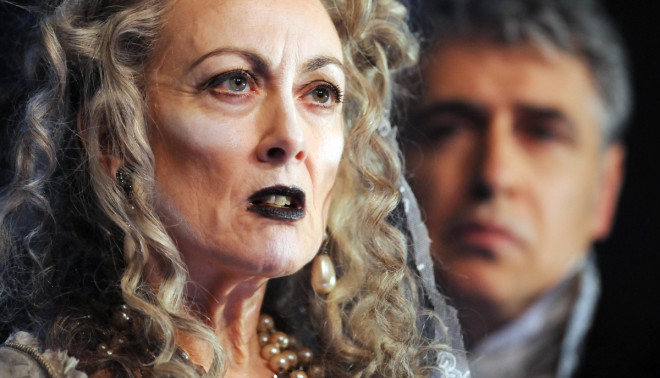 Emily Brontë's Heathcliff and Charles Dickens' Miss Havisham have topped the list of the most haunting literary characters, according to the British public.
The survey of 2,000 adults revealed the two classic characters were selected as the most spine-chilling iconic personalities of fiction, which included Mrs De Winter from Daphne Du Maurier's Rebecca and Nurse Ratched from One Flew Over the Cuckoo's Nest by Ken Kesey.
Brooding Heathcliffe, an archetype of the tortured romantic hero, topped the male list with a fifth of all votes. Miss Havisham, the withered bride jilted at the alter - a lustreless cross between a waxwork and a skeleton - was voted the most haunting female character, over 150 years since the story was first published in 1860.
The poll, which was commissioned to mark the screening of Great Expectations on the television channel Drama, revealed the spectre from Susan Hill's 1983 novel The Woman in Black came in second, followed by Lady Macbeth, who gained 13% of votes.
Following Heathcliffe, Bram Stoker's Count Dracula came second, while Jack Torrance from Stephen King's 1977 horror novel The Shining came in third.
The poll also revealed the North Yorkshire Moors - the setting for Emily Bronte's Wuthering Heights - as the most haunting location from British fiction. Other particularly eerie locations included Whitby, the setting for Stoker's Dracula, and the Thames Marshes in Kent, the landscape for Great Expectations.
Having spent part of his childhood there, Dickens describes the landscape with chilling exactness: "The dark flat wilderness, intersected with dykes and mounds and gates, with scattered cattle feeding on it... the low leaden line of the river... and the distant savage lair from which the wind was rushing, the sea..."
"Great literature, like great drama, is all about characters," Adrian Wills, general manager of Drama, said. "Our top ten lists the characters that stay with you long after you have put the book down, from the mysterious to the menacing."
Top ten most haunting female characters
1. Miss Havisham - Great Expectations, Charles Dickens
2. The ghost - The Woman in Black, Susan Hill
3. Lady Macbeth - Macbeth, William Shakespeare
4. White Witch - Chronicles of Narnia, C.S. Lewis
5. Annie Wilkes - Misery, Stephen King
6.Mrs De Winter - Rebecca, Daphne Du Maurier
7. Nuse Ratched - One Flew Over the Cuckoo's Nest, Ken Kesey
8. Mrs Coulter - Northern Lights, Philip Pullman
9. Miss Trunchball - Matilda, Roald Dahl
10. Miss Hardbroom - The Worst Witch, Jill Murphy
Top ten most haunting male characters
1. Heathcliff - Wuthering Heights, Emily Brontë
2. Count Dracula - Dracula, Bram Stoker
3. Jack Torrance - The Shining, Stephen King
4. Mr Rochester - Jane Eyre, Charlotte Brontë
5. Alex - A Clockwork Orange, Anthony Burgess
6. Frankenstein's monster - Frankenstein, Mary Shelley
7. Pennywise the clown - It, Stephen King
8. President Coriolanus Snow - The Hunger Games, Suzanne Collins
9. Caliban - The Tempest, William Shakespeare
10. Kevin - We Need to Talk About Kevin, Lionel Shriver