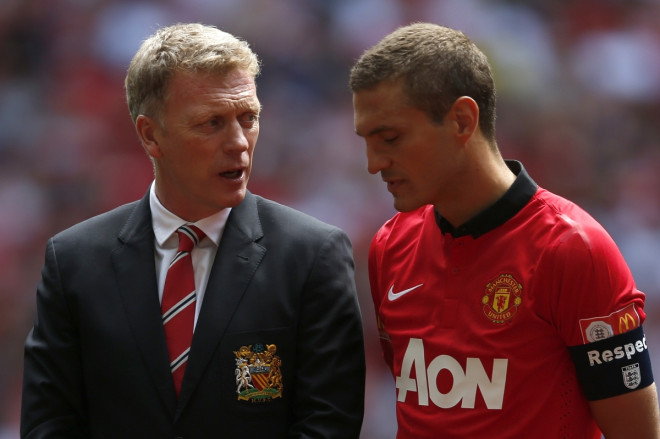 Former Manchester United defender Henning Berg believes Nemanja Vidic's departure from the club will be a huge loss for David Moyes.
The Serbian centre-back's contract at Old Trafford runs down at the end of the season. United skipper has confirmed that he will join Inter Milan after agreeing a pre-contract with the Italian outfit.
Vidic was signed by United's former manager Sir Alex Ferguson from Spartak Moscow in 2006. The 32-year-old has been a key figure in the English champions' back four and has won five Premier League, one Champions League and three League Cups so far.
Berg believes Vidic decision to join Inter is not down to "footballing reasons."
"He's still vital to the club so I don't think it's a football decision. He's been there for a long time now, so I think it's simply down to the player wanting to do something different," Berg told Sky Sports.
"He's a fantastic leader and a top player - one of the best central defenders that they've had - and I'm sure he'd like to go out on a high note," he added.
Berg joined United from Blackburn Rovers in 1997 and left Old Trafford in 2004. He is currently managing Polish side Legia Warszawa. During his time with the Red Devils, the former centre-back saw Ferguson push Jaap Stam out of the club.
Stam left United and signed for Lazio in 2001 after spending three years in the Premier League. Berg claims Vidic is leaving the club when the player has still few years of top flight football, similar to that of Stam when he left Old Trafford.
"He could still play on for United. Like Stam, I believe he's leaving when there's more years left in him. But I don't think this is a decision made by the club, or [David Moyes] the manager; this is purely down to Vidic wanting to do something different," Berg concluded.
With Vidic's departure being confirmed and Rio Ferdinand in his final few months of the contract, Moyes needs to find a replacement for the central defending duo in the summer. Apart from the two, United have the services of Jonny Evans, Phil Jones and Chris Smalling as the first choice centre-backs in the squad.