Surrey Police is investigating the theft of a statue of murdered schoolgirl Sarah Payne after the a bronze statue disappeared from outside Burhill County Primary School in Hersham.
The 2ft statue of a young girl was presented to the school in memory of former pupil Sarah, who was murdered by Roy Whiting in 2000.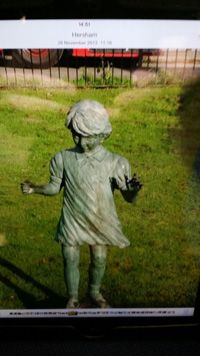 The statue is believed to have been stolen around 1am on 11 March. Three people are believed to have been involved in the theft. A van was also seen in the area around the time of the offence.
Elmbridge neighbourhood sergeant Marc Nettleingham said: "We are carrying out a number of enquiries to identify the offenders responsible for this theft, which is particularly reprehensible given that it was presented to the school in memory of Sarah Payne.
"I am appealing to anyone who saw anything suspicious in the area at the time of the offence, or with any other information, to come forward straight away."
Sarah disappeared from a field near her grandparents home in in Kingston Gorse, West Sussex, on the evening of 1 July 2000. A huge nationwide search for the schoolgirl was launched, with her parents, Michael and Sara Payne, making numerous television appeals.
Her body was later found 17 July, in a field near Pulborough, 15 miles from where she disappeared. Whiting came to police attention when he was caught speeding and crashing into a parked vehicle.
It was while he was in jail for dangerous driving that forensics discovered evidence linking him to Payne's murder and he was subsequently charged. Whiting was handed a life sentence and told he would serve at least 50 years in prison.
If you have any information, call Surrey Police on 101 quoting reference P15063260 or by using the online reporting system found at my.surrey.police.uk/splonlinereportingweb.