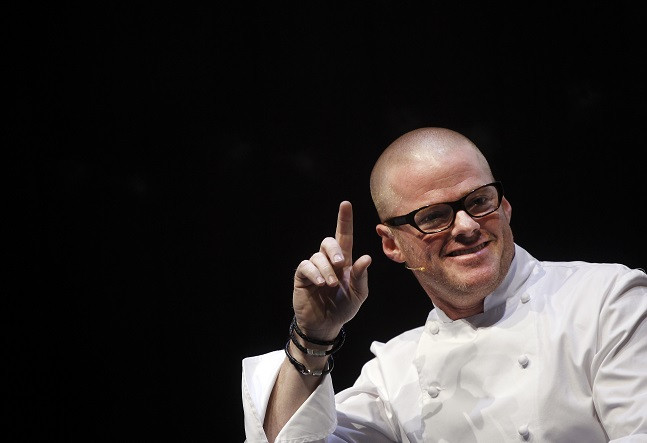 Acclaimed UK chef Heston Blumenthal has temporarily closed his exclusive central London restaurant following an outbreak of a vomiting virus at the establishment.
A total of 24 customers and 21 members of staff became ill after an outbreak of the norovirus at the two Michelin-starred Dinner restaurant at the Mandarin Oriental hotel in London's Knightsbridge.
The restaurant is expected to remain closed for a week, with Blumenthal saying he intends to "err on the side of extreme caution" due to previous experience of the norovirus, which closed down his award-winning Fat Duck restaurant in 2009.
At least 240 people were affected by the outbreak at the Fat Duck, which was subsequently described as the largest norovirus outbreak yet documented at a restaurant.
"I am very sorry for the inconvenience to those customers affected by the cancellations," Blumenthal told the Mail on Sunday.
"However, I will reopen the restaurant safe in the knowledge that we have done everything we can do to continue to strive to create the perfect environment and food for my guests to enjoy.
"To completely and permanently rule out any further contamination takes a few days to be 100% sure," he added.
James Armitage, Westminster City Council's food safety manager, said: "Test results this week have shown that there has been an outbreak of norovirus at the Dinner restaurant at the Mandarin Oriental hotel in Knightsbridge.
"The operators have now temporarily closed the restaurant and we believe this is the responsible thing to do."
Armitage added that the restaurant has been told to improve some of its hygiene procedures, including ensuring that staff wash their hands more regularly.
Dinner opened in 2011 and caters for around 1,000 customers every week. The restaurant specialises in historical English food and a meal for two can cost around £190.
Signature dishes at the eatery include the Meat Fruit from 1500, which is a chicken liver mousse designed to look like a mandarin orange.