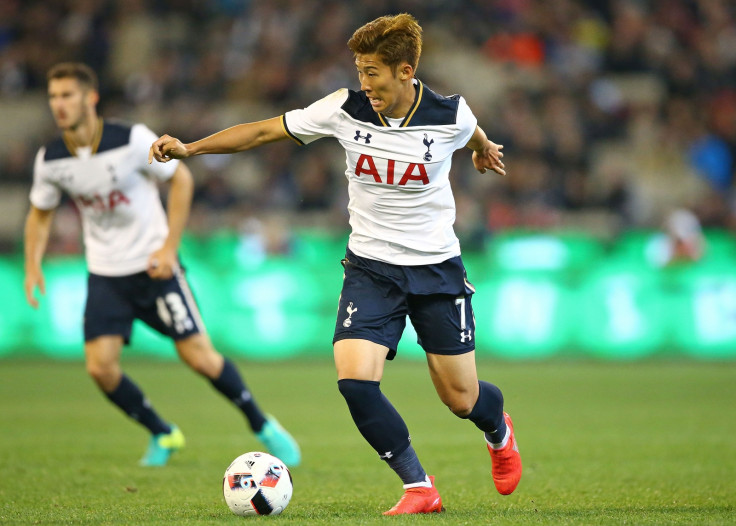 Tottenham Hotspur striker Heung-min Son has apologised to his club for missing the first game of the season to compete for South Korea at the Rio 2016 Olympic Games. The 24-year-old will feature in the men's football competition this summer and will be absent from the club's first Premier League fixture of the campaign against Everton at Goodison Park, but admits the chance to go for gold was too good an opportunity to turn down.
Should South Korea progress to the final in Rio on 20 August then Son will also be absent for Spurs' second match against Crystal Palace at White Hart Lane, scheduled for the same day, before potentially returning in time for the visit of Liverpool the following week. The north London club had escaped losing Erik Lamela and Christian Eriksen but will have to make do without one of last season's most dependable performers.
Son has played a full part in Tottenham's preparations for the new season since returning to training on 4 July. He travelled to Melbourne for the International Champions Cup matches against Juventus and Atletico Madrid and despite not starting the campaign for Mauricio Pochettino's team is expected to be part of his plans.
"First of all, I'm sorry for the team because I'm going to miss the first game of the season," he told the Tottenham official website. "I've had a very good time in the first four weeks of pre-season with the team, the gaffer and the coaching staff. Now I'm excited to go to Rio and to play for South Korea. This is very special for me, my first time in the Olympics.
"I watched the Olympics in 2012 in London and there were so many great performances there, so many people, so many sports. Everyone is excited. It's a great feeling. Yes, of course [I can win a medal]. If that wasn't the case there would be no point going there. I want to get a medal for South Korea. I run for South Korea every time, the same as I run for Tottenham. I'm not going there just to have fun and enjoy it, I want to win an Olympic medal as well."
The 16-team tournament kicks off with eight matches on 4 August, the day prior to the opening ceremony, with South Korea starting their campaign against Fiji before matches against defending champions Mexico and Germany. The group stage starts just 24 hours before Tottenham play their final pre-season match against Inter Milan in Oslo.