A Deluxe Professional Edition of Hitman: Absolution has been unveiled that will include an Agent 47 statue, art book, making of DVD and downloadable content.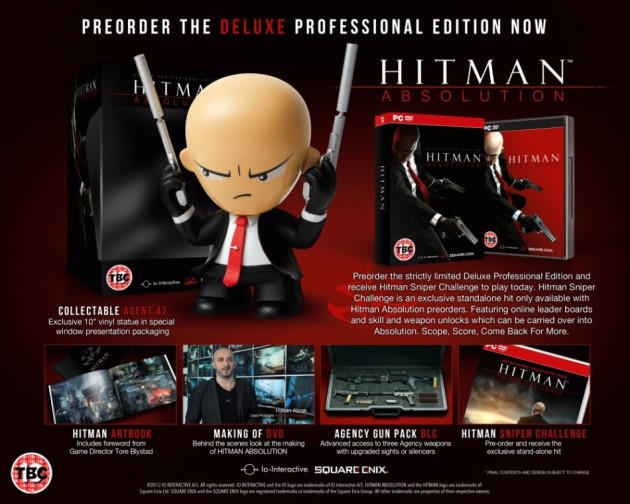 The "strictly limited" Deluxe Professional Edition will include a 10in vinyl statue that depicts Agent 47 in a fun cartoon style. The hard-cover Hitman: Absolution art book includes a foreword by game director Tore Blystad, while the DVD takes a behind-the-scenes look at the making of the game.
The Agency Gun-Pack DLC provides access to three Agency weapons with improved sights or silencers. "Our community and fans mean the world to us and we've worked hard to create a collector's edition which we think they'll love," said Jon Brooke, brand director at IO Interactive.
Pre-order customers also receive immediate access to the Sniper Challenge experience, an exclusive standalone game featuring online leader boards and the ability to carry over skill and weapon unlocks into Hitman: Absolution.
The game follows Agent 47 as he takes on his most personal contract to date. Betrayed by the Agency and hunted by the police, he finds himself pursuing redemption in a corrupt and twisted world. Hitman: Absolution has been developed by IO Interactive A/S, a Square Enix studio, and is released on PlayStation 3, Windows PC and Xbox 360 on 20 November, 2012.
Play.com lists the PS3 and Xbox versions of Hitman: Absolution Deluxe Professional Edition at £59.99, with the Windows set selling for £52.99.