H&M, Gap, Adidas and Puma Condemn Cambodian Police Killing of Striking Garment Workers
At least one victim of police violence in Phnom Penh worked for Puma contractor, clothing giant says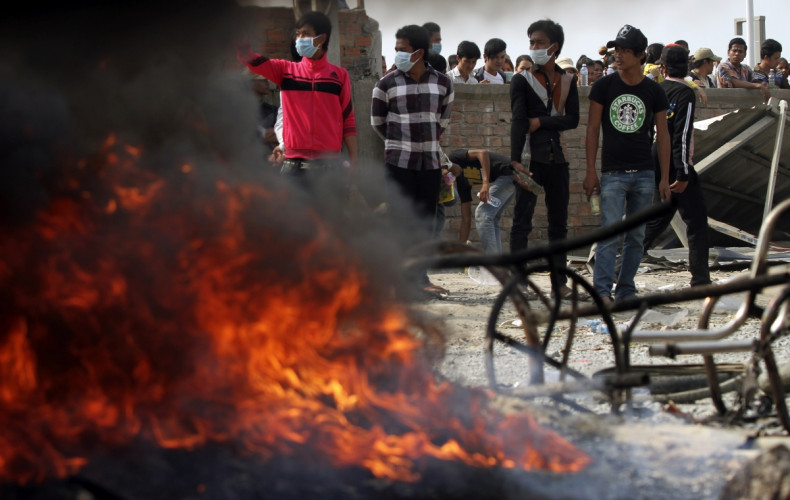 A number of Western clothing giants including H&M, Gap and Adidas have urged the Cambodian government to refrain from using violence after police shot dead five garment workers who were striking for higher wages.
German sportswear colossus Puma told IBTimes UK that one victims was employed by one of its suppliers.
"We are one of many brands that sources products from this supplier. We will for sure, together with the other brands, follow up with the factory to assure that support is given to the family of the victim," Kerstin Neuber, Puma's head of corporate communications, said.
In a letter to Prime Minister Hun Sen, Puma, H&M, Gap, Adidas, Inditex, Levi Strauss and Columbia said they were concerned by the government using deadly force to break the strike.
"We strongly oppose all forms of violence," the letter read.
The companies backed the development of a minimum wage review mechanism for garment workers.
"The only way to resolve this dispute is to cease all forms of violence and for stakeholders to enter into good-faith negotiations, allowing workers to safely return to work without fear of repercussions as soon as possible," the letter read.
The letter was not signed by Nike, which also purchases apparel from Cambodian factories. No one at Nike was available for a comment as we published.
At least 20 people were injured as police opened fire on protesters in a southern suburb of Phnom Penh last week.
Kim Phalin, 29, Yann Rithy, 26, Sreng Vibol, 22, Ouk Pheak, 23 and Sam Ravy, 26 – all of whom worked at local garment factories – were killed, union officials said.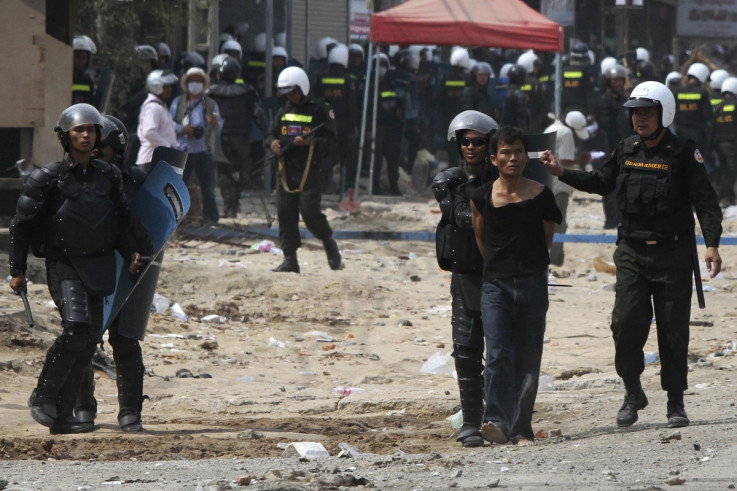 A protester is detained during clashes between garment workers and security forces in Phnom Penh
Reuters
The Garment Manufacturers Association in Cambodia (GMAC) dismissed the deaths as "collateral damage" and blamed the workers for their own demise.
"It's a sad story that people are affected, died, it's a sad story. I don't want that at all," GMAC secretary-general Ken Loo said.
The victims were striking to demand an increase in the minimum wage to $160 (£97) a month - double the current rate.
Jeffery Hermanson, director for global strategies at Workers United, Service Employees International Union, said that Western and local companies were aware that such a salary rise was necessary to provide decent standards of living to Cambodian workers.
"The wages in Cambodia are so low as to guarantee that workers are going to be unhealthy," Hermanson told IBTimes UK.
"Workers live in rented rooms, five or six to a room, with inadequate cooking and sanitary facilities.
"Food provided in some of the factories is of poor quality and there is no potable drinking water in many. Ventilation is inadequate and chemicals are used without informing the workers of the dangers.
"Mass fainting incidents have been frequent, with medical investigators blaming malnourishment and lack of sleep because of long hours and inadequate wages," Hermanson said.
One worker, Noeun, a 25-year-old who was shot in the left ankle during clashes, told the Cambodian Daily that his wage was so low that he had not enough money to pay his medical bill.
"I have no money. I don't know how I will pay for this," he said.
The government has proposed an increase in the minimum wage to $100 a month but the offer has refused by unions.
Workers were due to resume work on Wednesday after a national holiday.
Hermanson said that many were afraid to return to their factories in fear of violence against them.
Garment workers have been backed by the main opposition party.
The opposition Cambodia National Rescue Party has staged a series of protest demanding that Prime Minister Hun Sen steps down.
The party claimed that July elections, which saw Hun Sen winning again to extend his 28-year rule, were rigged.
Cambodia's economy relies heavily on exports from the garment industry which employs some 500,000 people.