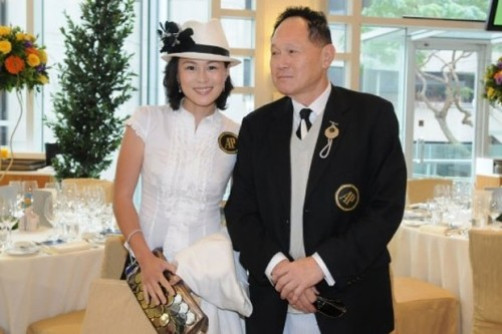 Gigi Chao, the daughter of a Hong Kong billionaire who has put up a £40m reward to any man to prove that his daughter is not a lesbian, has branded his scheme as "insanity".
Cecil Chao, a 76-year-old property and shipping tycoon, offered the money to any man who could win the heart of his reportedly lesbian daughter and marry her.
He claimed that reports that his only daughter was a lesbian were false and were hindering her efforts to find true love.
He announced the bounty after she was said to have entered a civil partnership with her girlfriend of seven years, Sean Eay, in a ceremony in Paris.
"Gigi is certainly a nice girl - a very loving daughter and deserves a very good life," he told CNN. "She should have as wide of a choice as possible.
"I don't mind whether he is rich or poor. The important thing is that he is generous and kind-hearted."
The famously promiscuous Hong Kong businessman, who claims to have bedded more than 10,100 women - which works out at an average of a new woman every single day for 30 years - is also offering to help his daughter's prospective husband set up his own business.
Gigi, an executive director at her father's property firm, Cheuk Nang, has said that his reward has resulted in proposals from men from all over the globe. She says she finds his offer "entertaining".
In a post on her Facebook page she wrote: ''Dear Earthlings, Thank you for your flood of marriage proposals, love letters, business proposals, death threats, and other general correspondence.
"Whether you are Muslim, Catholic, atheist, Hindu, or what your world views may be, I implore you to stop bothering my friends or my receptionist. I pray that you will all find love, that which begins with self-love, and that which begins from love of parents, and that which stems from love of the universe. Its's been my deepest honour that you have found me interesting enough to follow me.''
"I wasn't angry at all," she explained to CNN. "I was moved by daddy's announcement. It's his way of saying 'Baby girl I love you and you deserve more.'"
Same-sex marriages are not recognised in Hong Kong where homosexuality was decriminalised in 1991.