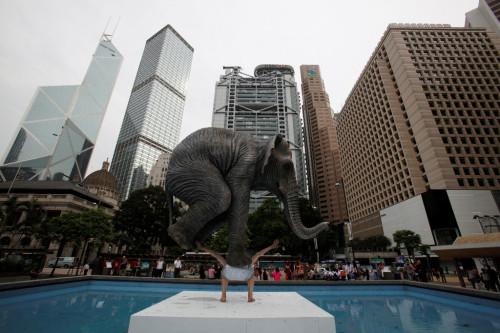 Myriad Asset Management and Azentus Capital Management, two large Hong Kong-based hedge funds, reported their highest annual returns since inception on the back of Japanese bets and on investments made outside of Asia.
The Myriad Opportunities Master Fund, a $2.4bn multistrategy fund, returned about 20% in 2013, two unnamed people with knowledge of the fund's performance told Bloomberg.
Azentus' about $840m Asia-focused global multistrategy fund returned 16.4%, a third unnamed source told the news agency.
The biggest 2013 profit contributor for Azentus was long and short trades in Japan. The fund is run by Morgan Sze, who once helped manage Goldman Sachs' largest proprietary trading team.
Meanwhile, investments in the world's third-largest economy may have contributed as much as half of Myriad's profits during the 12 months. Myriad is run by Carl Huttenlocher, a former regional head of Highbridge Capital Management.
Scott Gaynor, Myriad's chief operating officer, and Julie Chang, Azentus' investment relations officer both refused to comment on returns because that information is confidential.
2013's Gains
The Eurekahedge Asia Hedge Fund Index added 15.5% over the 12 months, the highest annual advance in four years, as Japanese funds profited from the biggest single-year stock market rally in 41 years and China managers beat Hong Kong's Hang Seng index, according to the Singapore-based data provider.
The Eurekahedge Asia Multi-strategy Hedge Fund Index returned 4.6% in 2013, according to initial data based on 56% of the 32 funds tracked reporting December numbers.
Azentus also made money from Greater China and from US and European equities that were influenced by Asian activities. The ability to profit from both undervalued and overvalued securities helped ease fluctuations in monthly performances – the worst monthly loss during the year was about 1%.
2013's profit helped push Azentus above the high watermark, the historical peak net asset value above which it can charge performance fees.
2013's Equity Rally
Japan's benchmark Nikkei 225 share average surged 57% in 2013 after Prime Minister Shinzo Abe and the Bank of Japan rolled out extraordinary stimulus measures to halt 15 years of deflation.
Elsewhere, America's S&P 500 index gained almost 30%, triple the gain of the MSCI Asia-Pacific Index, amid signs that the world's leading economy was recovering.
Azentus returned about 1% in 2012, Bloomberg reported earlier. It lost some 6.8% in 2011, the year it started trading. The fund managed about $2bn in assets in its first year.
Myriad, which started trading in December 2011, gained some 7% in 2012.