In a move seen as an attempt by Republicans to stop Democrats from holding another sit-in, House Speaker Paul Ryan has proposed new fines and ethics violations for members who take photos or video from the House floor.
The proposal, which will be introduced in January 2017 when Congress reconvenes, comes six months after Democrats live streamed their 26 hour sit-in on the House floor in June in favour of gun-control bills. The sit-in was staged in response to the Pulse nightclub shooting in Orlando, which left 49 dead.
The GOP attempted to stop footage being made public by shutting off the cameras in the House gallery, but Democrats used social media to live stream video.
C-SPAN and other outlets were forced to broadcast live video from Democratic members streamed on Periscope and Facebook Live.
Under the proposal, lawmakers would be fined $500 for a first offence and $2,500 for any other subsequent offences, which would be docked from their salaries.
According to The Associated Press (AP), the new proposed rules would not be retroactive and therefore would not affect the members who participated in the summer sit-in.
Roll Call reported that offending members could also be referred to the Ethics Committee for disrupting access to the floor or official microphones. Those members could then face sanctions.
AshLee Strong, Ryan's spokeswoman, said the changes "will help ensure that order and decorum are preserved in the House of Representatives so lawmakers can do the people's work."
In response, House Democratic Leader Nancy Pelosi's spokesman said Democrats will not stop speaking out on the "daily tragedy" of gun violence, the AP reported. "House Republicans continue to act as the handmaidens of the gun lobby refusing to pass sensible, bipartisan legislation to expand background checks and keep guns out of the hands of terrorists," spokesman Drew Hammill said.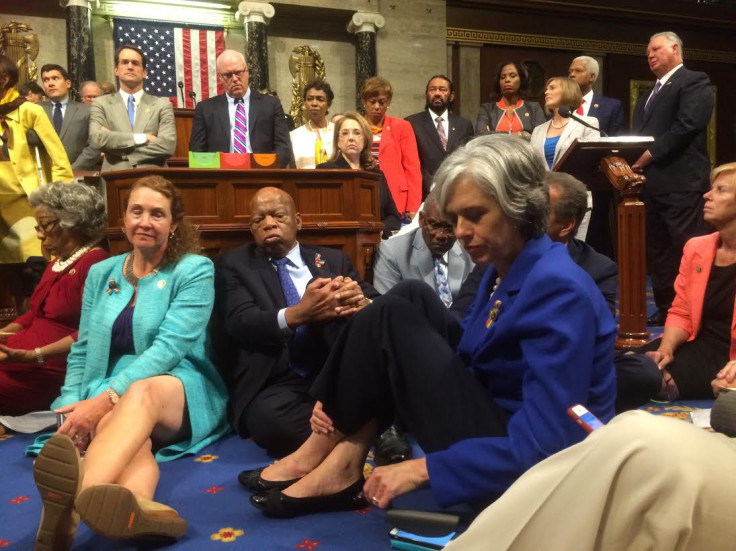 According to BloombergPolitics, rank and file members from both parties and present amendments to the proposal before a vote is conducted on 3 January, when the 115th Congress officially convenes. Changes to make it harder for rank and file member to force the removal of the House speaker was not included in the package.