How businesses can learn from the first wave of AI
Businesses that do not have a robust data-centric culture to drive AI will be affected.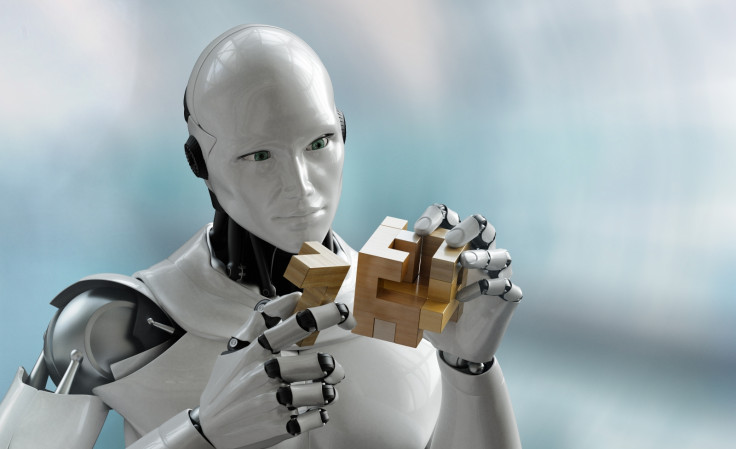 Artificial Intelligence (AI) or cognitive technology is no more about a machine playing chess. AI is on the streets driving our cars. It is in our call centres chatting up customers in dulcet tones. AI is drafting and reviewing legal documents with immaculate precision. It is even doing what we could never dream of: You can trade using indices derived from satellite imagery (of all the things!). It is almost as if you can take anything, sprinkle some AI dust on it, and have it reborn as super smart.
AI depends on analytical models and digital inputs in the form of vast and continuously flowing streams of data. The models quickly crunch the data and spew out insights with an uncanny human flavour. Some AI frameworks use Deep Learning and Machine Learning to create a loop of automated self-learning and unbroken evolution.
Organisations are realising that AI can be harnessed to create powerful real-time adaptive enterprises. In other words, we could have organisations that almost intuitively shape shift in response to the changing environment.
Embracing Uncertainty
While it is easy to see that this is ground breaking ability, its real significance rests in the fact that organisations need no longer sweat over uncertainties. After centuries of trying to create stable organisations and economies, business leaders need not fear instability. With AI as an ally, they will come to embrace it. They will know that their digital ears, eyes, hands, legs and, we dare say, minds, will maximise each opportunity regardless of how unpredictable the environment may become.
A recent global study on AI called 'Artificial Intelligence in the Real World: The Business Case Takes Shape' done by The Economist Intelligence Unit (EIU) on behalf of Wipro tells us which industries are embracing AI first and why.
All eyes on the US Healthcare sector
The study shows that the US healthcare sector leads the way with AI applications.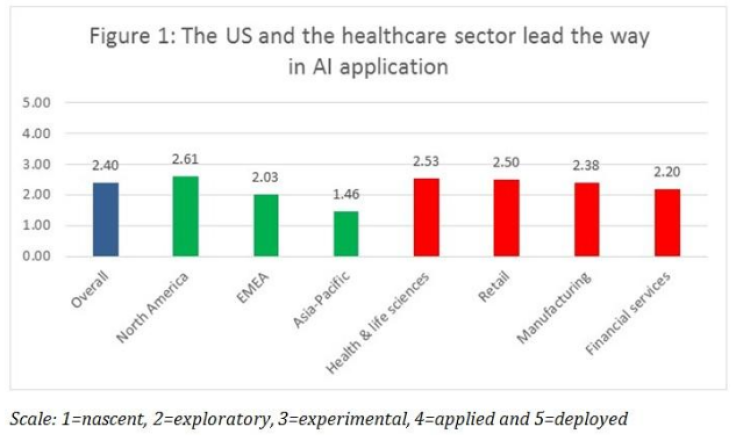 Expressed as an index, the AI implementation score across organisations represented in the survey is 2.40 on a 1-5 scale, where 1=nascent, 2=exploratory, 3=experimental, 4=applied and 5=deployed. This means many organisations that participated in the study are just months away from active experimentation.
The index score is highest in North America (2.61), which reflects the fact that labs and universities in the US have, over the years, already invested in fundamental AI research. "Ralf Herbrich, Amazon's director of machine learning, believes the US lead is also partly due to its high excitement levels for consumer technology," says the EIU report. "However, he (Herbrich) notes that Europe has taken the lead in areas of AI such as natural language processing for multi-lingual settings. And at least one forecaster predicts that Asia-Pacific will experience faster growth of AI technologies than other regions between 2016 and 2020".
While current AI initiatives are largely between the exploratory and experimental stages, self-improvement cycles on the back of Machine Learning will soon take over. Thereafter, we believe things will move at a dizzying pace. Today, if we want to look for early signals of where AI is headed, it is worth turning our attention towards Health and Life Science, Retail, Manufacturing and Financial Services.
A diet of data – a precondition to AI
The health sector's lead, the study points out, comes as no surprise to experts interviewed by the researchers. Jerry Kaplan, a visiting lecturer at Stanford University in California, and James Hendler, director of the Institute for Data Exploration and Applications at Rensselaer Polytechnic Institute in Troy, New York, believed that in the medium term healthcare provision holds brighter prospects for AI application than other fields. Kaplan said that AI's potential in healthcare is predicated on the enormous volumes of patient data and medical research that the industry has accumulated. "The broad availability of data on outcomes, procedures, clinical trials, expenditures and other areas mean that the use of machine learning techniques can offer unique and useful insights."
Health and Life Science, Retail, Manufacturing and Financial Services are then the industries that could witness the first wave of AI-driven hyper transformation. Each one of those industries has one thing in common: They have a favorable history of generating and storing vast amounts of data, the essential building block for AI.
Businesses that do not have a robust data-centric culture to drive AI will be affected. Executives are deeply aware of this. As many as 44% of the executives polled for the report felt that delaying AI implementation will make their business vulnerable to new, disruptive tech start-ups. The only way to counter this is by making data acquisition and management a number one priority. Data is a pre-condition to deploying AI. Once a comprehensive and future-proof data strategy is in place, an organisation can think of which component of AI to build, what to buy, who to partner and which of the existing applications be made more autonomous.
---
Bhanumurthy B. M. is President and Chief Operating Officer at Wipro.
He will be participating at the Annual Meeting of the World Economic Forum in Davos-Klosters, Switzerland, which takes place over 17-20 January.
---
© Copyright IBTimes 2023. All rights reserved.